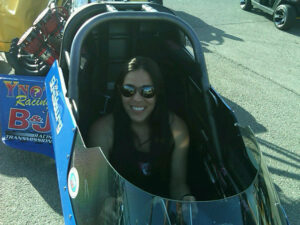 Every year, my company attends a week-long industry trade show in Las Vegas, and every year it falls on the same week as the NHRA race.    Unfortunately for me, something always prevents me from checking out the famed Strip, and I was determined NOT to let that happen this year.
Thanks to a little pre-planning on my air tickets, I was able to head out to the track on Friday of the NHRA event for qualifying.   This was made even better by a comp ticket and media parking pass by one of my clients that produces the ESPN2 coverage of the event.  (My company manufactures equipment found on those big TV trucks).
So Friday morning, I dropped off my suitcase at the airport for my redeye flight that night, and headed over to grab a rental car for the afternoon.    Words can not explain how excited I was to travel the 40 or so miles outside the lights of the Vegas Strip to the thunder and excitement of the Vegas DRAG strip.
Behind the wheel of a Top Fuel
When I arrived, I stopped into say hi to my friends at the Strasburg Top Fuel pits.   And then I was given a chance that put me on cloud 9…. I was asked to get behind the wheel of a top fuel dragster to steer the car to the starting line and back to the pit from the scales.
I know, I know… so what?   It wasn't running or anything.  But let me tell you, for someone like me that wants SOOOO bad to be looking down that long body and out that cockpit, I was in heaven.    I was able to feel how it steers (or doesn't, depending on how you look at it), I worked the handbrake while being towed around, and got to experience the smells and heat of that nitro engine fresh off a pass.  It was a dream come true, just short of being in a firesuit ready to make my OWN pass.
I think I look good in that seat, don't you?