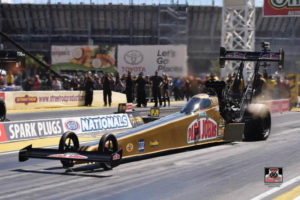 NHRA Top Fuel driver Leah Pritchett landed a semifinal finish in her Papa John's Pizza Top Fuel dragster this weekend at the Denso Spark Plugs NHRA Las Vegas Nationals. The team lost the points lead it had held since the NHRA Mello Yello Drag Racing season began, but she understands it's a long season and there's not much wrong about being a semifinalist.
Pritchett, who opened this season by making history with two wins from the No. 1 qualifying position, won her first two races Sunday in the NHRA Las Vegas Nationals before losing to Don Schumacher Racing teammate Antron Brown, who went on to win the event title for DSR's 300th event team victory.
She qualified in the No. 5 position, defeating Troy Buff in round 1 of eliminations with a 3.756 sec., 328.30 mph performance. In round 2, she took out Brittany Force with a 3.770 second, 328.06 mph performance, but fell in the semifinals against teammate Antron Brown, running a 3.919 second, at 311.20 mph to Antron's 3.797 second, 320.89 mph ET.
Overall, I'm definitely satisfied," she said. "Our expectations were to continue being a competitive for the title and a threat to everybody that's right on our heels in the points. I feel that we definitely showed that we were there. I saw Antron out in front. At halftrack I could tell our car was laboring but at the same time there's situations where he could break a belt, put out an engine burst panel, parachutes could come out or whatever. I still felt like I had somewhat of enough momentum, in a worst-case scenario maybe take the stripe. So I made the decision to stick in it and that's why we have incredible sponsors that are able to help us fund, to be able to take those wins or losses."
Two of Pritchett's three Top Fuel titles came by beating Brittany Force in a final round with crew chief Todd Okuhara and assistant Joe Barlam.
"I'd say the most gratifying win of the weekend came in the second round against Brittany (Force). She really makes me step up. I'm very confident in the decisions that Todd and Joe are making. We're just so dedicated to wining and we're never going to let that fade. We're just going to keep working at it and get the points lead back at Houston."
DSR leaves Las Vegas with the top three spots in Top Fuel but a switch was made at the top with eight-time world champion Tony Schumacher passing teammate Leah Pritchett for the top spot, leaving Pritchett No. 2 and Brown in the No. 3 spot. Each of the DSR drivers have won at least one title this year.
The Mello Yello Series is off for two weeks before returning for the 30th annual NHRA Spring Nationals near Houston.