NHRA Drag Racing Top Alcohol Dragster driver Megan Meyer debuts new 2017 livery this weekend at the LODRS Division 2 Southeast Regional event, Prelude to the Gators, in Gainesville, FL.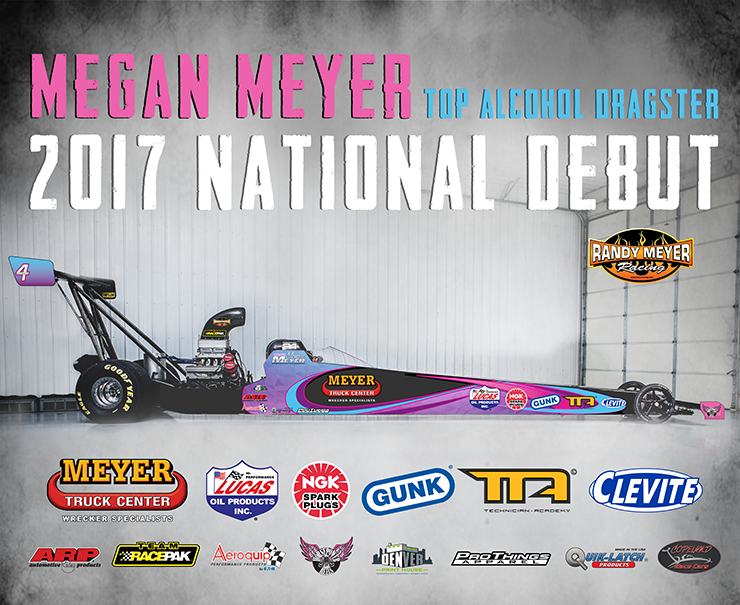 The Randy Meyer Racing A/Fuel Dragster welcomed new sponsors for the 2017, opting for a total redesign for Megan's sophomore season. The team returned to the well-received and recognized pink, purple and blue colored livery.
I wanted to step into my sophomore year with a new look," says Meyer. "I love the way how the pink and purple and blue stand out on the track. A big thanks to Accelerated Designs for the layout and Fineline Graphics for printing the wrap."
New sponsors come aboard for 2017 in Technician.Academy, Aeroquip, and ProThings and existing sponsors return in Meyer Truck Center, Lucas Oil, NGK Spark Plugs, Gunk Cleaners, Clevite Rings and Bearings, Horsepower & Heels, ARP Bolts, Taylor Cable, and Racepak for the new livery debut.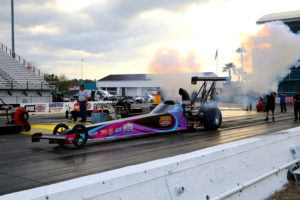 Originally scheduled to unveil during the upcoming Gatornationals event, the team accomplished much during their pre-race test session at Gainesville Raceway. Testing out new setups and tuning, they made quick progress during testing.
We were trying out new combinations with the car that did not meet our expectations on the first day, so we went back to our original game plan and the car ran a stout 5.202 E.T. at 279 mph for my first full quarter-mile pass."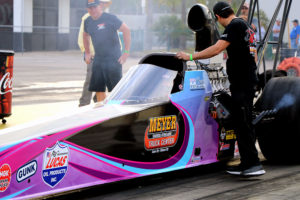 Testing went so well, the team decided to enter this weekend's LODRS Division 2 Regional event "Prelude to the Gators". This means fans at the regional event get the added bonus of the unveiling as Megan steps up for her first race of the year.
I am thrilled to be back at the race track; being at the Nitro Spring Training and the Winternationals as a crew member was a blast. I always enjoy going back to helping out on the top end and bottom end of the motors. But, my heart is set on driving, and I am more confident than ever in my team and in my race car that we will be championship contenders this year."
Prelude to the Gators – Gainesville Regional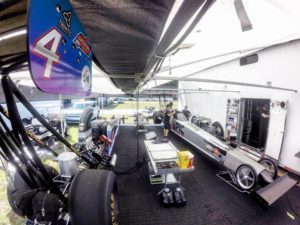 There are 12 cars entered for this weekend's Gainesville Regional event. One of which is Megan's new teammate, young upstart Justin Ashley in his TAD competition debut. After Friday's qualifying, the teammates captured the top of the qualifying order, with Megan running a 5.239 at 274.55 mph for the No. 2 position and Justin at No. 1 with a 5.205 at 278.86 mph.
The pair will hit the track again tomorrow, battling it out for their first win of the season.
Upcoming Schedule – Megan Meyer Racing
Belle Rose Regional,

April 7-9

SpringNationals,

April 21-23

, FS2 |

May 4

|

9:00 – 10:00 PM ET

Four-Wide Nationals,

April 28-30

, FS2 |

May 11

|

8:00 – 9:00 PM ET

Heartland Nationals,

May 19-21

, FS2 |

June 1

|

8:30 – 9:30 PM ET

Tulsa Regional,

June 22-25

Route 66 Nationals,

July 6-9

, FS2 |

July 20

|

8:00 – 9:00 PM ET

St. Louis Regional,

July 22-23

Topeka Regional,

July 27-29

Lucas Oil Nationals,

August 17-20

, FS2 |

Aug 31

|

9:00 – 10:00 PM ET

U.S. Nationals,

August 30-Sept 4

, FS2 |

Sept 14

|

9:00 – 10:00 PM ET

Earlville Regional,

September 8-10

Carolina Nationals,

September 15-17

, FS2 |

Sept 28

|

8:00 – 9:00 PM ET

Dodge Nationals,

September 21-24

, FS2 |

Oct 5

|

9:00 – 10:00 PM ET

Noble Regional,

October 6-8

FallNationals,

October 12-15

, FS2 |

Oct 26

|

9:00 – 10:00 PM ET