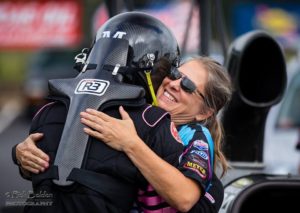 Returning to the site of her first win in Top Alcohol Dragster, NHRA rookie standout Megan Meyer was ready to get back on top at the 9th Annual NHRA Carolina Nationals after a difficult 5-week race swing in her Racers Evolved A/Fuel Dragster.
This past weekend concluded our 5 week tour, from Brainerd to Charlotte. We struggled with some unexpected gremlins but we have made some necessary changes to get back to performing our best."
The Randy Meyer Racing team has worked hard between the tough five-week swing to sort out the Racer's Evolve Dragster.    In the first round of qualifying, Meyers was up in smoke at the hit, aborting the run for a 14 second timeslip.   Round 2, Meyer posted a 5.345 second, 275.17 mph performance, moving her up to the No. 9 position.  In the third and final qualifying session, Megan Meyer was able to jump up the ladder with a 5.278 second, 277.49 mph pass which netted her the No. 3 final qualifying position for the event.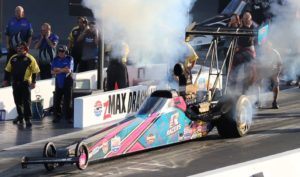 In eliminations, she faced Artie Allen in Round 1 of eliminations, taking an advantage at the tree with her 0.05 reaction and putting distance between them at every interval, with a 5.340 second,  278.69 mph performance.
Round two, she would face Shawn Cowie, but would not have lane choice.   The first time these two competitors have met in competition, and Cowie would take a marginal lead at the tree.   Meyer hazed the tires a bit, running an off-paced 5.433 second, 275.00 mph ET.   Cowie would continue on for the eventual event win in Top Alcohol Dragster class for the NHRA Carolina Nationals.
We had 2 holes out at the hit, which slowed us down quite a bit."
The Randy Meyer Racing team will next head to their final Lucas Oil Drag Racing Series Regional event in Noble, OK at Thunder Valley Raceway Park October 7-9.