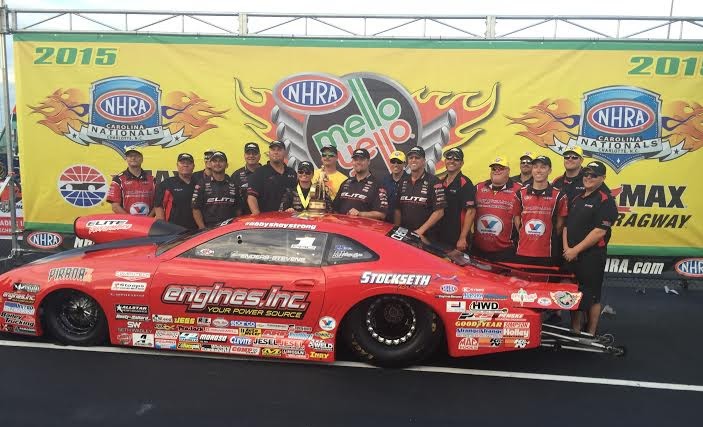 NHRA defending Pro Stock champion Erica Enders added another national event victory to her resume this weekend during the 8th Annual NHRA Carolina Nationals, her first win at the Charlotte, NC area zMax Dragway facility.    The win captured several historical milestones for the current points leader, and keeps her a front-runner for the Countdown to the Championship.
Enders began the weekend with consistent qualifying efforts, landing the No. 3 spot for Sunday's eliminations with a best pass of 6.536 seconds at 211.83 mph.   She would take on V. Gaines in the opening round, taking the early lead off the starting line and never looking back, with a 6.565 second pass at 211.10 mph to defeat Gaines 6.645 at 209.33 mph.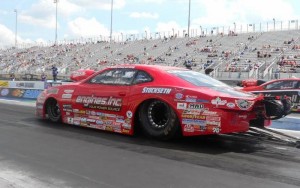 In round 2, Enders would dispatch Chris McGaha with the fastest pass of the round – a 6.588 at 210.11 mph, taking the advantage at the tree yet again.  Though McGaha would run the second-fastest time of the round- a 6.620 at 210.18 mph,  it wasn't enough to catch Enders.   She would earn lane choice into round 3.  However, something went amiss on the Elite Motorsport Chevrolet Camaro during the run, and the team returned to the pits, thrashing to prepare for their semifinal match-up with veteran racer Allen Johnson.
"In the second round we had an issue with our clutch and were able to barely make it up for the semifinals against (Allen Johnson)," Enders said.
The team got her to the line for the semifinals, and Erica's uncharacteristic 0.031 second reaction time left her chasing Johnson, who posted a 0.010 second reaction.    She chased him down to the finish line, running a 6.586 second at 210.31 mph pass to his losing 6.611 at 209.59 mph, passing him by just 18 inches at the stripe.    The margin of victory was 0.0048 seconds, but it was just enough to land Enders in her third consecutive final, where she would face Vincent Nobile.
It's just a confidence booster in getting in the race car up there when my crew chief (Rick Jones) said, 'Hey, look up in the right corner of your windshield. What does that say? It says No. 1. There is a reason for that.'  Just having them stand behind me even when I might not be there mentally that day it pumps me up. They are there for me. My guys are who make me a better driver."
Enders would take the hole-shot win against Nobile in the final, running a slower 6.581 second, 210.97 mph  to his losing 6.575 sec at 211.13 mph performance.
That is pretty neat," Enders said of winning in Charlotte. "Back when I drove for Cagnazzi (Racing), this was one of the facilities that they had never won at. It was obviously a goal of ours. Coming in this weekend, I had runner-upped three or four different times here, a couple at the Four-Wide Nationals and one at the regular race. This was actually the place where the win lights malfunctioned and we thought we got our first win against Greg Anderson, but then they were like, 'Sike, you don't get it,' and took the trophy over to him."
History for Enders in Charlotte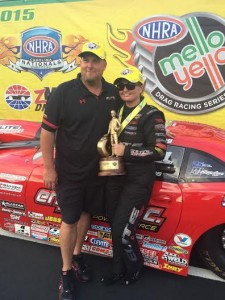 Not only did she land her first win at the zMax Dragway facility, but she crossed off quite a few more milestones in the process.   The win marked the third straight victory for Enders, the second hole-shot victory in a row, and ties marks set by Sampey (2002) and Muldowney (1977) for the most consecutive wins by a female racer.    In addition, her class-leading seventh victory of the season ties Sampey's 2001 season effort for the most female racer wins in one season.   It also marked her 19th-career professional win in Pro Stock, a feat by which she passes Shirley Muldowney on the all-time female racer win list for the No. 2 position.  She trails only Angelle Sampey (41 wins) for the winning-est female racer in drag racing history.
It's a true blessing, and to be able to pass Shirley — it was crazy in Indy to tie her. Angelle is a friend of mine, lives about 20 minutes from my house (in New Orleans). She is by far the winning-est female in NHRA drag racing, so it's definitely cool to put my name alongside of theirs, a true honor."
Enders, who entered the countdown as the No. 1 seed, retains the No. 1 position and increases her lead in the Countdown to the Championship by 83 points going into race No. 2.
Yeah, it's pretty incredible," Enders said. "My PR guy was telling me some stats on the way down the hallway and that is pretty surreal. I feel like I'm in a dream. I just don't know what I've done to deserve such a great group of guys and to work for such an awesome team owner. We have fun together and that is what makes it so cool. We are able to be successful and have fun. Nobody said that you had to be miserable while you are doing it."
The Elite Motorsports team packs up and heads to the next stop on the Countdown tour, the 4th Annual AAA Insurance NHRA Midwest Nationals held at Gateway Motorsports Park outside of St. Louis, MO, Sept. 25-27.