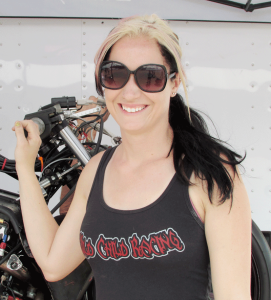 Beside the big sea of semi-rigs and stacker trailers, a smaller grassroots-style gooseneck trailer sits at the end of the PRO pit row.    The pit configuration is more fitting of the relaxed pace for Pro Stock Motorcycle's Katie Sullivan and her father-daughter team based out of Corning, California.   Sullivan, who at age 18 was the youngest female to ever qualify for and NHRA Pro Stock Motorcycle event, has been a steady face in the class ever since, working hard to make her Pro Stock Motorcycle dream a reality.
She began in the Junior Dragster ranks at the age of nine, quickly falling in love with the sport and earning herself one track championship, one runner-up, and numerous event wins in the junior ranks.   Around age 12, she fell in love watching motorcycles racing,  and knew she belonged on a drag bike.    That dream turned into a reality shortly after her 16th birthday.    Her first year on a drag bike, she appeared in 5 finals and qualified number 1 at numerous events.  But at the age of 17, she suffered a devastating knee injury while playing high school basketball, that sidelined her racing.
Determined to come back to her motorcycle, she spent hours in physical therapy with the goal to climb back on the bike and resume her racing career.   Once she was able to overcome the injury, she quickly set her sights on becoming the youngest female to ever qualify in NHRA Pro Stock Motorcycle.    At 18, just days after her high school graduation, Katie was able to accomplish her goal of qualifying for an NHRA national event.  She became just the seventh female to do so in the class, and even earned her first round win against her childhood idol, Karen Stoffer in her first professional start.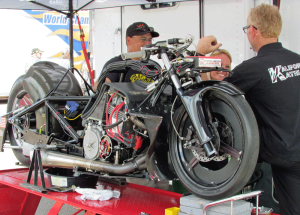 In 2009, Katie and Charlie purchased their own Pro Stock Motorcycle, embarking on their own program which has allowed Katie the flexibility to finish her college education and handling her full-time responsibilities for her two own businesses:  Kalifornia Katie's Trailer Sales and Tough Girl Designs.   Though she would love to be out on the tour full-time, the fun and family-focused relaxed pace for Pro Stock Motorcycle's Katie Sullivan has been very rewarding for her personally.   The duo spend their time together traveling on the road to races, and working on the bike during the evening hours when home.   Though it may be a lot of hard work for the small team, and can be especially tiring when returning to a full-time job at home, Katie says her heart is in NHRA PSM racing, as evident by her persistent smile.    At the track, she enjoys interacting with the fans in a more relaxed and friendly setting, and takes time to help inspire kids by allowing them to be up close to her PSM bike, even sitting them on the seat for photos.
2016 Gatornationals
Katie and her dad Charlie made the over 40 hour and 2,900 mile haul from their northern California home base to Gainesville, Florida for the 47th annual Amalie Motor Oils NHRA Gatornationals, the Pro Stock Motorcycle (PSM) class season opening event.   Last season, they attended 5 events total –  Charlotte, Denver, Sonoma, Las Vegas and Pomona – finishing 23rd out of 39 drivers in the class at the end of the year.  They made a few changes over the off-season on her Suzuki PSM and were ready to get started in Katie's eighth professional PSM season of racing in Gainesville.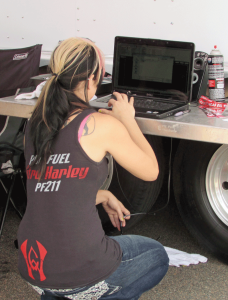 But the family encountered some unexpected issues in qualifying.   In the opening round, Katie made it about 400 feet out before having to abort, coasting to an 11.695 at 68.94 mph.   Round two saw her launch stray towards the wall, resulting in another aborted run of 12.132 at 63.73 mph.   In round three, she made her best pass of the weekend, running a 7.136 at 187.26 mph, moving her from the bottom of the ladder to the No. 23 position.    Between rounds, the team had made some changes to the carburetors looking to improve, but something went wrong in the linkages after the burnout, and while trying to stage the bike for her final attempt to get into the field, the idle refused to come down.   NHRA shut the bike down for safety, and Katie would not qualify for the Gatornationals this year, ending up in the No. 25 spot.
Undiscouraged, she plans to try again at the 4-Wide Nationals in Charlotte later in April.   They will regroup and come up with a game plan to pick back up and improve their efforts.   Always mindful of their limited resources, they arranged to house the bike with a fellow competitor on the east coast to avoid another pair of cross-country hauls.  Though she has yet to earn her first event victory, she's having fun and to her, that's just as rewarding.
Best of luck to "Kalifornia" Katie Sullivan!