Today is Throwback Thursday, and a topic has been circulating the social net since this past weekend's legendary Lights Out radial race in South Georgia that not many know is a very dear subject to my heart.
RADIAL TIRE RACING
Back before Duck X and Donald Long, before Lights Out, Radial Wars, Radial vs the World or any of the events that are credited for putting radial tire racing on the map, there was a true revolution born.   All of the events that followed certainly helped it grow into the amazing spectacle it is today, with cars going just as fast as pro mods on a radial tire.   This certainly isn't to take anything from the amazing racers or promoters that are out there today, but to pay my respects and share my memories of the true BIRTH of this movement so long ago.
You see, I was there in the late 1990's and early 2000.   When street car racing was bringing about major advancements that many people take for granted today.  I watched the NMRA and FFW take street car racing to a whole new level.    They took people like me, who had a passion for fast and brought us off the street and onto the track.     They weren't race cars — often they were daily drivers that we took and modified, pushing the envelope on the street.   They were accessible, they were affordable.   They were an art to drive, trying desperately to get a tiny street tire to hook with small blocks that pushed 600, 700, 800+ RWHP….  the numbers kept climbing, and so did the challenges of driving them.
Big Daddy – the FATHER of RADIAL
And then comes Dwayne Gutridge.    Big Daddy to all of us.     Larger than life to a young racer like me back then.  He was already a legend in his own right, pushing the performance of the small block 5.0 Fox Body Mustang game to innovative new heights.   But he wanted a street tire.   He wanted to do it on a radial – not a slick.   They told him it would never work – it couldn't be done.  And then, he DID THIS.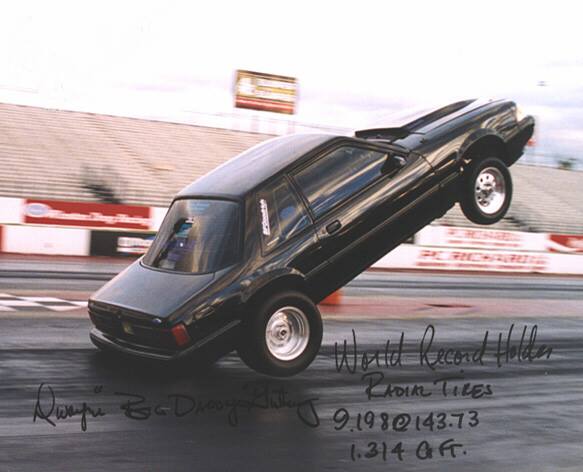 I don't remember the exact date, but I know that this image, which I believe became a poster for BF Goodrich and was circulated through all the magazines, was THE REASON I wanted to race a Drag Radial car.
Most people look at that now and say 'Big deal… 9's and 1.30 60′ ft times'.    But you just don't understand.
That was 15 YEARS ago.
It was on a

true

275/50/15 BF Goodrich tire that didn't have years and years of development perfecting.   (which, by the way, you can credit Big Daddy for much of that R&D work)
It was on true STOCK SUSPENSION.   No modified ladder bars or fancy traction arms.   Control arms and struts in factory locations.
It was SMALL BLOCKS making 1000+RWHP with bolt-on power adders in heavy all-factory street cars.
It was super tight converters, trying to spool big turbos that you fought in the burnout box to get spinning.
It was fighting to build boost while staging with your FOOT, no fancy bump boxes.
It was no real track prep, and especially no radial-specific track prep.
It was feeling the tire start to just break loose and pedaling it just enough to keep it going down the track.
It was TRACTION CONTROL via your FOOT, not via a computer.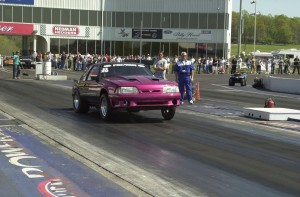 It was a GLORIOUS time that I was extremely proud to have took part in.    Racing alongside people like Big Daddy and Chris Little, Spence Hart and Peter Champani, all of the guys who made this class one of the most exciting things of its time.    I was lucky enough to have faced Big Daddy in quite a few Drag Radial finals during my run, and never could quite get around him.
It is really something to see the class that I was lucky enough to have raced  having come so far in the decade since it all began.  To see 25,000+ people in those stands, with exits on the interstate shut down, tech cards being sold out a day before the event begins, and all of the breath-taking advancement made is truly incredible.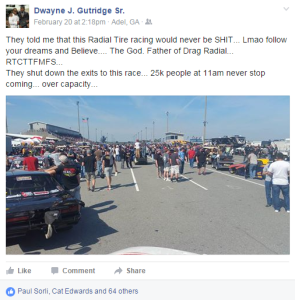 But I am sad to see that the man who should get the credit for all of it starting, is so often overlooked.    Dwayne Gutridge, Sr.   forever "Big Daddy" to all of us, is still an inspiration to this day.   Thank you for believing, thank you for championing the class for so many of us, for not giving up, for seeing this vision through.
…. And even if they don't remember where this all came from, WE DO.

My Thanks,
Erica Ortiz
Runner-up, 2003 FFW Drag Radial Points Championship (to Big D!)
5x event Runner-up, FFW Drag Radial
1st female in the 8's on a drag radial tire
1st female over 175 mph on a drag radial tire