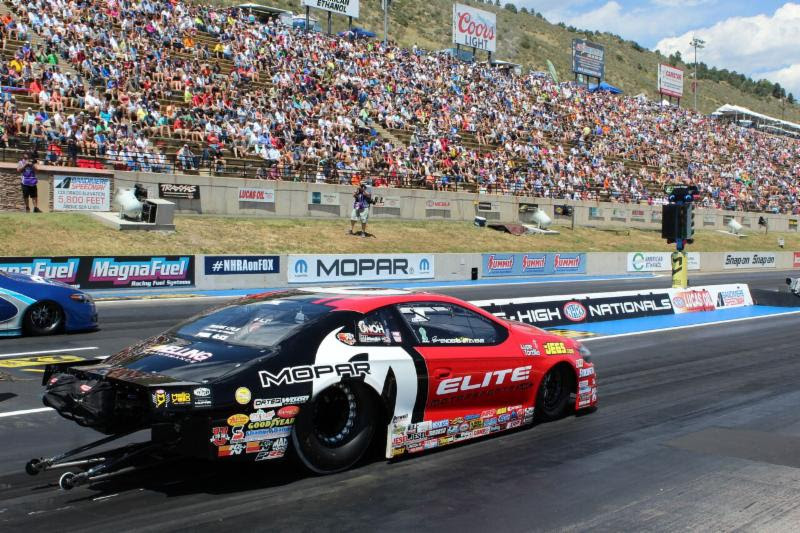 It has been a difficult season thus far for the reigning NHRA Pro Stock World Champion.   But this weekend saw improved performance for Erica Enders in Denver that keeps the Elite driver optimistic for a turn around.  Qualifying second for the event is proof that her Dodge Dart is now a contender, despite a second round loss due to parts failure.
Enders earned the No. 2 qualified position for the 37th Annual NHRA Mopar Mile High Nationals with a  6.933 second pass at 198.03 mph.   Though it was a less than ideal run, with Enders out of the groove for parts of the run, it was her best qualifying effort to date this season.  The Elite team has struggled with their switch to Mopar this season, also contending with rule changes in the Pro Stock class and the drastic move to Fuel Induction.
"We're certainly pleased with our performance gains this weekend," Enders said. "It shows that our hard work is paying off. Having said that, we still have a long way to go."
She beat Alan Prusiensky with one of the best passes in the first round, 6.970 seconds at 197.42 mph. That gave her lane choice against Allen Johnson for the second round, but Johnson's good fortune in Denver continued.
The two friends and rivals got off the line almost identically, but Johnson sped to the win with a pass of 7.000 seconds at 196.53 mph while Enders lost elapsed time from her first pass and ended up with a run of 7.026 seconds at 195.62 mph.
"We had a parts failure that round," Enders said. "We should have been able to go out there and run a .98 absolutely no problem because we took where the failure in the run happened and did a run completer from there. We were actually on a better run than Greg (Anderson) in that round and he went a .99.
Though she lost in the second round after an unfortunate parts failure slowed her pass, the improved performance for Erica Enders in Denver means her Dodge Dart is now a contender.
"I think we would have been a solid to low .98. Should have, would have, could have, but it would definitely have been enough to beat AJ. This is just his lucky track."
Johnson ended up racing to his 10th consecutive final round here, beating Vincent Nobile in the final.   Enders, meanwhile, looks forward to continuing the Western Swing next weekend in Sonoma, Calif.
"We'll load up and go to Sonoma definitely with our heads held high because of the gains made here," Enders said. "I'm looking forward to racing at sea level again, or closer to sea level, and kicking ass in Sonoma."