The Female Motorsport Team of the Year category received 45 nominations and 263 votes for the Horsepower & Heels Women of the Year Awards.    Votes were counted twice and three times in this category, in what ended up the closest race of the awards program.   Only TWO votes decided the winner.
2015 Female Motorsport Team of the Year – Larsen Motorsports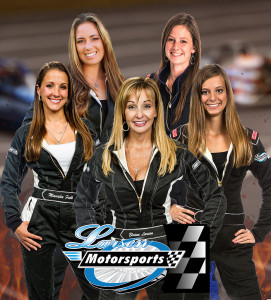 Horsepower & Heels is proud to announce the winner of the 2015 Women of the Year Female Motorsport Team category – Jet Dragster Super Team, Larsen Motorsports!
They are known as the 'Fastest Girls in Town' for a good reason.   Larsen Motorsports is home to 2015 IHRA Jet Dragster Champion, Elaine Larsen; her crew chief Paige Sanchez, and regular Jet drivers Kat Moller, Allison West, Marisha Falk, and Shea Holbrook.    Larsen Motorsport recently opened their own Jet Development center, and is known for mentoring new jet drivers and crew members, especially young ladies, through their educational programs.
Their commitment to helping women excel in the sport is unsurpassed.
Runner Up – Elite Motorsports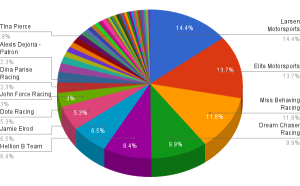 The two-time reigning Pro Stock World Championship team behind Erica Enders, Elite Motorsports is your Team of the Year Runner-Up for the 2015 Horsepower & Heels Women of the Year Awards.
Female Motorsport Team of the Year Nominees
Miss Behaving Racing
Dream Chaser Racin'
Hellion B Team
Team Elrod
Dote Racing
John Force Racing
Dina Parise Racing
Team Patron
Melanie Salemi Motorsports
Performance by Fisher Racing
Meyer Sisters Racing
Amy Tate
GRR Racing
Team Haddock Racing
Kayli Barker
Meehan Motorsports
Jami Weimer
Ashley Sanford Racing
Emily Shapiro
Heidi Steele
Stewart-Haas Racing/GoDaddy
Tina Pierce Racing
Grace Autosports
Kendra Adams Motorsports
Martha Lee Motorsports
Mia Tedesco Racing
Teryx Girls
Madelyn Marconi
Jennifer Jo Cobb Racing
Bayde Motorsports
Terry Chandler
Ruman Racing
Haase Racing
Jessi Combs
Bunny and the Boys
CFH Racing
Alex Taylor
Cassie Gannis
Samira Rached
Audrey Worm
Volvo Ocean Race Team
Musi Racing
Sauber F1 Team