IHRA Jet Drag Racing super team, Larsen Motorsports, was recently recognized by the Economic Development Commission of Florida's Space Coast as their 2016 Innovation Company of the Year.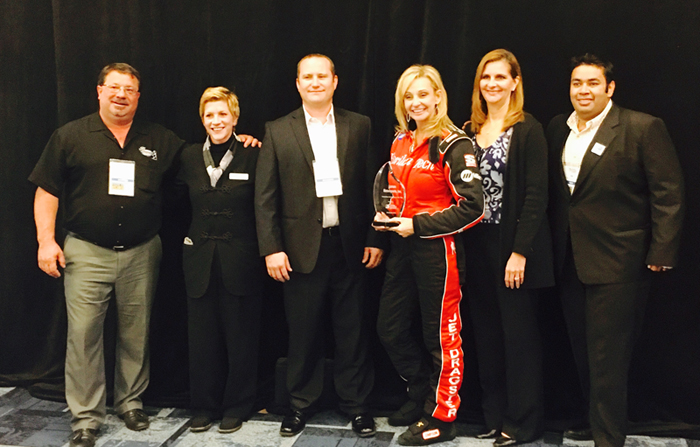 The award selects a business who demonstrates innovation in product or service offerings, manufacturing productivity or processes, sales and marketing approach that result in increased investment.     Larsen Motorsports, Inc was selected for carrying out the goal of bringing new talent in driving, design, engineering, maintenance and development of their jet drag racing development program.    The program, which was recently expanded, reaches talent from around the world from their Brevard County, Florida location in Palm Bay.
Founders  Elaine Larsen and Chris Larsen accepted the award on behalf of the company at the EDC's Investor Update Meeting on January 20th, where companies were displaying locally made products in the Made in Brevard showcase exhibit.
"Our passion is to create a unique hands-on training experience that will inspire the next generation of learners into STEM related majors", stated Chris. "With a unique business focus, a niche home as the anchor of Florida Tech's Center for Advanced Manufacturing and Innovation Design (CAMID), and a team of innovators creating new and inventive product designs, we are honored to be a part of this business community and appreciate the EDC's recognition as an innovator making a difference."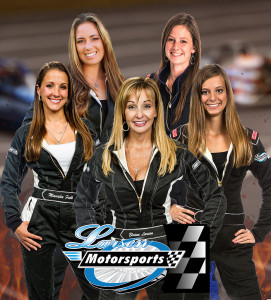 The Larsen Motorsports team trained and provided development for the four jet dragsters teams in the program, nicknamed the "Fastest Girls in Town".   As driver, Elaine Larsen won the IHRA Jet Dragster Championship for 2015, aided by her crew chief and engineering student, Paige Sanchez.   Other development program drivers in the program: Shea Holbrook, Kat Moller, Allison West, Dawn Purdue and Marisha Falk – all drove the 250+ mph jet dragsters.   The Larsen Motorsports team also won the Horsepower & Heels Female Motorsports Team of the Year for 2015.