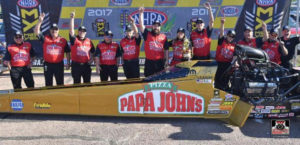 Another huge weekend at the NHRA Spring Nationals for the Papa John's Top Fuel Dragster team, resulting in a third win for Leah Pritchett. The team was also able to regain the lead in the NHRA Championship points chase.
Pritchett and her Papa John's Pizza team led by crew chief Todd Okuhara and assistant Joe Barlam, qualified No. 6 for the Houston race with a 3.747, 326.87 mph effort. She would face Scott Palmer in round one, improving her career record vs. Palmer to 3-0 after running a 3.748 at 324.59 mph pass for the win.
Round two, she would carry lane choice against Doug Kalitta, whom held the round win advantage in the pairing at 9-2 entering the race. Pritchett would take the jump off the tree with a starting line advantage, holding on to the lead all the way to the finish – a 3.763 at 324.05mph to Kalitta's quicker, but losing 3.759 at 326.56mph. Leah's holeshot win gained her lane choice into the third round.
The semi-final round would see Pritchett face off against teammate Antron Brown. Though he would get the starting line advantage, Leah would reel him in and hold on for the win, running a 3.772 at 319.45mph. This would put the Papa John's team facing Steve Torrence and the CAPCO Contractors team in the final, and would also result in a "family feud" face-off, as Leah's husband Gary is the CAPCO team clutch specialist.
"We don't talk on race day (Sunday). I don't even make eye contact with him when we're in the staging lanes getting ready to run," she said.
Before the final, she said "let the best Pritchett win."
""You want to get fired up by being mad or hating the person you're racing, but I can't do that when we're up there racing against great guys like my teammate Antron (Brown, who she beat in the semifinals) or Steve. My mentality, honestly, was there's a select number of drivers that I really, really get up for. I know Steve very well, a great family friend and all of that. I knew he was going to be after me."
As she was going to be after him. She got a little jump on Torrence at the starting line and the race was determined by 7 feet at over 320 mph when her time of 3.781 seconds at 321.96 mph edged past his 3.787 at 322.11. Her third win in the five races thus far in the 2017, she was able to regain the points lead from her Don Schumacher teammates as well. She currently leads teammate Antron Brown by 54 points and Tony Schumacher by 56 points.
"I've never been in a position to really be counting points so early in the season, but I'm definitely enjoying that," she said.
The Mello Yello series moves east from Houston next week to near Charlotte Motor Speedway for the NHRA Four-Wide Nationals at zMAX Dragway in the second of three Mello Yello events
in three weeks
.
2017 NHRA MELLO YELLO DRAG RACING SERIES TOP FUELSTANDINGS
(Official after Houston; 5th of 24 events; wins in parenthesis)
1. LEAH PRITCHETT (3) 494 —–
2. ANTRON BROWN (1) 440 -54
3. TONY SCHUMACHER (1) 438 -56