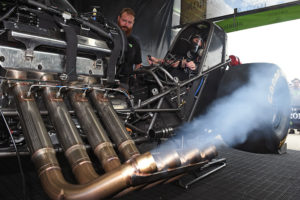 Despite their star driver not feeling 100%, the Kalitta Motorsports Tequila Patrón Toyota Camry Funny Car qualified in the No. 9 position with a 3.946 second, 322.34 mph performance during Baytown, TX qualification rounds. DeJoria was able to improve on that in round one of eliminations, taking the win against Tim Wilkerson with a 3.927 second, 327.03 mph pass against his 8.109 second effort, advancing her to round two. There, she would face Advance Autoparts driver, Courtney Force, but just couldn't make the same charge to the finish line, running a losing 4.146 E.T. at 260.16 mph to Courtney's 3.947 E.T. at 294.37 mph.
It's been a bit of a rough weekend for me. I'm fighting a possible case of walking pneumonia. We'll see when I get home and talk to the doctor but I definitely haven't been feeling great this weekend so I've been trying to be extra strong and do my job, and I think I did a good job," said Alexis. "We had a solid start; made three good, consistent passes in qualifying. On race day we got a round win, and almost a second round win. We're strong right now and I'm excited for the next race. I've got a great team. Who needs luck when you've got a group like this."
NHRA Countdown to the Championship Points Standings
Alexis and the Kalitta Motorsports Tequila Patrón Toyota Camry Funny Car team leave the NHRA Spring Nationals in 11th place in the NHRA Championship points chase with 208 points. She sits outside the top ten by just 3 points.