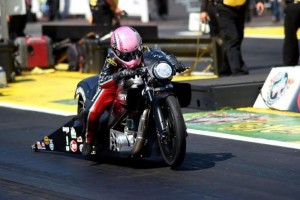 Victory Motorcycle driver Angie Smith is eager to return to NHRA Pro Stock Motorcycle competition in 2016.   The husband-wife power team of Angie and Matt Smith introduced the Victory Motorcycle brand to the NHRA Mellow Yellow drag racing series competition this season, after Victory began looking for a way to get into the NHRA Pro Stock Motorcycle class in late 2014.   They met with a handful of teams before settling on the championship-winning pair.
Tough transition for Victory Motorcycle driver Angie Smith
But pioneering a new build and combination isn't without its difficulties and challenges, as the team worked hard to develop the new Victory Pro Stock Motorcycle program.    Angie struggled early in the season with the aerodynamics of the new smaller fairing on the Victory race-prototypes.   At one of the first test sessions with the new bike, the team discovered that the Victory's smaller fairing pro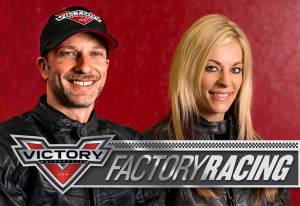 duced much higher wind resistance, with Angie's hand actually blowing off the handlebars on one of her early runs, overpowering her slight build.  She kept control and stayed on the bike, but her confidence suffered.
An NHRA-approved midseason adjustment to the bodywork alleviated some of the wind resistance that the team was fighting, also helping to put the Victory more on par to the other manufacturers in the class in performance and speed.
"It took a while to get my confidence back," she said. "But toward the end of the season, I was doing a lot better. I think in 2016 we're going to be really, really good."
As the season progressed, so did the confidence of Angie Smith.    She began the season at the bottom of the Pro Stock Motorcycle ladder, with a DNQ at the 4-wide Nationals and 7 total #16 qualifying starts.    But midseason, during the Western swing, their tireless efforts would begin to turn around, netting her a #11 qualified position for the Bandimere event and a season-best #8 effort in Maple Grove.
We are 100 percent behind this deal," Angie said. "There's no 9-to-5, 40-hour work week. We've been putting in all of out time to make this program better because we want to make Victory happy and we want to be happy as racers. We want this partnership with Victory Motorcycles to last a lifetime. We want to get as many people as we can riding Victory Motorcycles. The best way to do that is win because that shows everyone how great these motorcycles are."
Though she encountered a rocky start in 2015, Smith is no novice to the Pro Stock Motorcycle ranks.   Angie is one of just 15 women in NHRA's 64-year history to claim a national event trophy, and her crew chief/husband Matt says she will be adding to her career total in 2016.
She's come a long way over the last couple of years," he said. "The 2015 season was kind of a setback for her, mainly because of how the wind affects her on the Victory. She'll be a lot better in 2016. We've just got to get her some more laps. She'll be good next year."