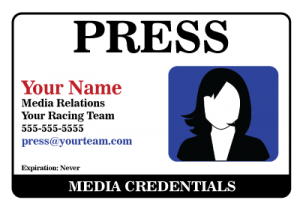 One thing I've learned during the 4 years I've spent writing my Women in Racing column for Examiner, is that it's really hard to get racers to submit timely news for coverage.   For the life of me, I cannot figure this out.   Maybe because my background IS PR/Marketing, I understand this better than most, but the single most important thing you can do as a racer is to increase the return of investment of your sponsors.   This means, the more you can get yourself and your sponsors out there, the more exposure you get and the more valuable their sponsorship becomes.   That's where your media game has to be on-point.
A lot of bigger teams have in-house marketing/ public relations teams who manage all aspects of their media presence.   But for many, there simply isn't a budget to afford a professional.   This doesn't mean you can let this important part of your job go unattended.    Here's a few tips on writing good press releases for racing media coverage.
Who? What? When? Where? Why?
This basic cardinal rule is so often forgotten when submitting press releases for racing.   The first paragraph needs to include all of your important info:  who, what, when, where and why.   Motorsport PR professional Rob Geiger, recommends the Inverted Pyramid Style to structure your release, keeping the most important facts in the opening paragraph, followed by the supporting details and other background information.
Proper Grammar
If you want editors to take you seriously, the first thing you need to ensure is that you are using proper grammar and spelling in your press releases for racing.   Professionals in the media industry follow the Associated Press Style Guide, and are very specific on how a proper release should be structured.   Have a copy of the AP Stylebook to guide your release.   Writing doesn't have to be fancy or wordy, a simple and concise release is best.
"One rule I have always followed and make my employees follow is to always read your press release out loud before you are done. Not in your head…I'm talking about actually saying the words. If you do this and find any place in the release where you stumble verbally, that place needs to be re-written."  Rob Geiger, Geiger Media
Keep in mind your audience  
We are so accustomed to speaking in racer-ese that we forget when talking to mainstream editors that they might not be well versed in the intrinsic details of our sport.  While a release detailing the specifics of your results in common racing terminology would be well received at a racing media outlet, a mainstream media source will find it too niche for their audience and difficult to follow.   In these cases, you must write your racing press releases as though you were talking to someone who had never seen or heard of your racing genre.
"Don't get into numbers, no one remembers them, there are only two things: won or lost;  that's all that's needed or remembered."  Sam Auxier Jr., The Sam Auxier Jr. Show  
Angle the pitch
Be different.  Don't send out the same canned "Racer to race at XYZ event" pre and post press releases for racing.   Stand out.   If there is relevant news that makes your story different, focus on that angle.  Firsts, historic announcements, human interest, charity partnerships, and other unique angles will get the coverage over the same canned releases.   Take the time to tailor your release to the outlet you are submitting your news.
"What makes a great press release is doing a release not for the sake of doing one. The whole purpose of a press release is to inspire publications to take what you've sent, and write an article from it. The lazy places just run press releases without putting any effort in. So, it's a pre-race release. And your quote reads, 'We're excited for this race and we want to win." Well, big freaking deal, so does every other team out there. Consider your press release with as much forethought as the tune-up in your car. The goal with a tune-up is to get the car down the strip. Well a press release is intended to inspire an article. Details are important, and providing a storyline is even more crucial. We are not trying to be jerks, but more press releases end up in the recycle bin than in publication because the majority just don't understand the importance of meaty details and quotes."  Bobby Bennett, Publisher, Competition Plus
Get to the point
Editors have busy, deadline oriented jobs.  They don't have time to read pages of text.   While it's important to list the key points and details, you want to present that information in the most concise and easily understood way possible.
"Keep it short and to the point. When submitting a release you have to understand most outlets receive a dozen or more a day. While it is important to stand out, don't provide a two page release with 600 words. Time is valuable, but if your product or news is interesting, we'll follow up with the person directly or seek out more info with provided URLs to product info, videos, websites, and more."  Mark Houlahan, Editor, Mustang360 Network
Contact Info
Make sure you include contact information that will allow an editor to follow up.   Include multiple formats: Social, Website, Email, Phone to ensure they can get the info they need in a timely matter.  Be responsive, do not leave questions unanswered.
CC and BCC Blasts
Trying to drum up good press seems like it would be a numbers game.  Deliver your message to the most amount of people as possible.    But as an editor, you don't want to be one of hundreds regurgitating the same information.    Forget "To Whom It May Concern" or "Dear Editor" submission styles.   Take the time to research the media you are pitching.   Get to know the name of the editor that covers your beat, and make your release personal to them.
"Press releases are an effective media tool, however, they should not be your sole form of communication with the media. Personal notes and pitches that are specifically tailored to a certain media outlet and/or contact can often go a lot further than blasting out a press release. Personalized pitches also help to build relationships, and relationships are everything in PR!"   Allison McCormick, Public Relations Manager, Alexis DeJoria Racing
Finding this information is fairly easy if you know where to look.   Most print publications have editors listed in the inside cover or near the index.  Online sources usually include editor contacts on a 'Contact Us' page, but searching the name of an editor who writes the column you are hoping to reach usually returns a lead to contact details.
Including Sponsors  
Obviously, we always want to thank our sponsors and help get them the added exposure.  But being tactful in your approach will help get them mention rather than being edited out.
"I like it when the racer works the sponsor's name into the story, rather than just tagging them at the end like it is a chore to get over with"   Scott Lucky Hudson, Contributing Writer at Drag Illustrated Magazine
Instead of including a line list of sponsors at the end of your press releases for racing, incorporate them into the detail text of the body.   "The Sponsor X Mustang took the top spot with a dominating display of Engine Y horsepower" is much more likely to stay off the editing room floor than an addendum line "thanking sponsors x, y and z" at the end of the release.
Media Credits
A press release without photos will often go into the trash.   It is imperative to include photos and video to accompany your news.   Source all multi-media, and provide hi-res printable photos (or offer hi-res upon request).  Understand that a photo that you pulled off a photographer's site, (or from Facebook and other social outlets) without their consent, is considered unauthorized use.   Media outlets need original, high-resolution images and videos with proper attribution.
"Be sure that you include one or two quality images to accompany the release. Photos or videos are an important aspect of a modern release, as imagery helps your release standout in the flood of information that media outlets receive."  Steve Turner, Editor-in-Chief, SVTPerformance.com
Deadlines and Lead Times
Depending on the publication, deadlines and lead times may vary.   Because social media has made information so readily available and virtually instantaneous, its important that you are timely in your PR efforts.   Many publications only have a 72 hour or less window of opportunity on news stories, so submitting your race results a week after an event will diminish your chances at coverage in the online world.    Print outlets usually require 3 months lead time, and stories should be much less time-sensitive material.
If you do not have the luxury of having someone dedicated to providing timely results, then make sure that at the end of your race weekend, you are making time to get this information drafted and released within 48 hours after an event's completion.
RSS Feed/Opt-In Releases  
Consider setting up an RSS newsfeed or Opt-In newsletter for your press releases.  This gives editors interested in your news a chance for regular coverage, and promotes a long-term media relationship by providing great follow-up material for their readers.   Using a content management software such as Constant Contact or Mail Chimp, you can import your press release database (provided you have the editor's permission).   Include a subscribe link at the end of your outgoing press releases, as well as on your media contact section of your website to build your media relationships.
Thank you
Most important, follow up with a thank you note for editors who ran your story.  This creates a lasting relationship and goes a long way in building trust for future coverage.   Share the articles with your fans and followers, its a nice token of appreciation for an editor's hard work.