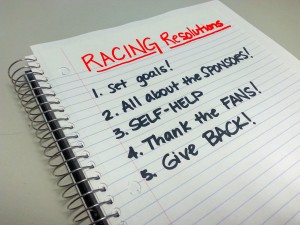 As one year comes to a close and another begins, most people look inside to reflect on how their year has progressed and how they can improve for the New Year.    Resolutions are often made, with varying degrees of commitment and success. As racers, we are no different.    So what about some New Year's Resolutions for Racers?
5 resolution for racers that every team should consider for the new season
1.  Create specific season goals
Not unlike a business plan or a personal fitness goal, racers should be considering their racing-related goals for the New Year. For drivers, this may mean sharpening skills behind the wheel by improving stats or another measurable metric. For crew, this could involve new training on the latest technology or improving service times for pit stops. Identify your areas to improve, and create a trackable goal for achieving it.
2.  Make sponsors a priority
Racing is an expensive sport, and without sponsor support, many of us would not be able to participate.  This means that obtaining and retaining sponsors should be a primary focus for racers. Often, sponsorship contracts will detail what is expected on both sides. But part of cultivating this relationship means you should take extra care to OVER deliver on your sponsorship expectations.   Go above and beyond for your sponsors in the new season. They will appreciate the effort and likely will remember it come time to renew.
3.  Personal Growth away from the track
Often times, we are so focused on our on-track performances that we neglect areas for improvement away from the track.    In order to become more well-rounded, racers should always be looking for personal growth opportunities and training away from their cars.   Drivers can benefit from media training to improve on-camera performances or sport-focused fitness and wellness training. Team owners and crew chiefs can always benefit from management training. By ensuring our personal growth, we bring more to the table as a well-rounded piece of the motorsport pie.
4.  Thanking the fans
Racing is an entertainment venue, and as such, our biggest and end customer is ALWAYS the fans.  We often get so wrapped up in the competition and the inner-culture of our sport, that we don't focus enough on the real reason racing exists: to entertain the fans.   Racers, team managers, crew members should always keep in mind ways to interact with fans.  Small gestures by drivers and crew can leave lasting impressions on fans, keeping them coming back for more.   Find ways to interact and engage your fans.   Be real and human to them, chat with them online and during racing down-times.   Take time to show your appreciation to them and they will continue to appreciate YOU.
5.  Giving back to charity
Racing gives us each a very public platform to a wide demographic range.   Motorsports is the #1 spectator sport in the WORLD.  That's a lot of reach….   We can use that voice to help give back.   Find a charity organization you are passionate about and become a vocal advocate of that charity.   Donate your time, partner on fundraisers, or just help use your voice to spread awareness.

These are just a few ideas for New Year's resolutions for racers.   What are YOUR resolution ideas?