Horsepower & Heels Motorsport Professional of the Year finalist, Kim Kussy, announced today that Aerospace Components has extended its agreement as the presenting sponsor of the NHRA Excellence in Engineering Award at select NHRA Mello Yello Drag Racing Series events through the 2017 season.
"We are excited to announce our multi-year involvement as presenting sponsors of the NHRA Aerospace Components Excellence in Engineering Award," said Kim Kussy, co-founder, President and CMO of Aerospace Components Inc. "Because we design and manufacture high performance drag racing billet aluminum components, this program is a perfect fit to honor and support those sportsman racers who exemplify the best engineered vehicles with a Wally trophy."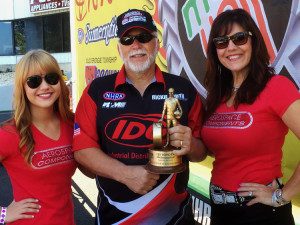 Aerospace Components Excellence in Engineering
Formerly the Best Engineered Car Award, NHRA's Excellence in Engineering Award will be presented at 12 NHRA Mello Yello Series races in 2016. The prestigious award is presented to an individual who brings a unique edge in craftsmanship and technology to each NHRA national event.   Voted on by the NHRA Tech Department, the recipient receives a special award-specific Wally to commemorate the achievement.   Past winners have included unique chassis builders, drivers that feature distinctive parts and individuals who work to design and test unique concepts.
The NHRA is very proud to have Aerospace Components continue its partnership with NHRA Drag Racing," said Gary Darcy, NHRA senior vice president of sales and marketing. "The NHRA features some of the world's most mechanically and technically complex machines and the NHRA Aerospace Components Excellence in Engineering Award honors those who continue to push the boundaries and break barriers in our high-speed sport."
The program is only one of the ways Kim Kussy stays active within the racing community, supporting customers and racers for their successes.     Aerospace Components is family-owned and operated by the Kussy family and has been producing high quality components for 30 years.
They began doing government contract work, primarily the manufacturing of defense systems, guidance systems and space station components, with Kim growing the business becoming one of the most successful professional women in motorsports.
Today, the Aerospace Components name is known throughout the racing industry as one of the leaders in manufacturing high performance drag racing products.  They design and build brake systems for any make or model car, billet aluminum vacuum pump systems, fuel pumps, water pumps, two speed power glide shifters and more.