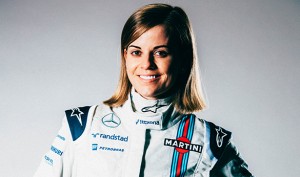 Williams F1 test driver and lone female to compete in a F1 Grand Prix event in 20 years, Susie Wolff, announced her retirement from driving at the end of the 2015 season.
Since being appointed as Development Driver for the Williams F1 team in April 2012, Susie has worked hard over the years, moving up the ranks and ultimately leading to her promotion to Official Test Driver in 2015. Her duties as Official Test Driver has played an instrumental role in the development of the FW35, FW36 and FW37.  Susie worked through extensive simulator sessions for the team, getting behind the wheel for straight line aerodynamic tests and during numerous on-track test sessions.
This culminated in her driving the FW36 during FP1 at the 2014 British and German Grands Prix, becoming the first female driver to drive in a Grand Prix weekend for two decades.
"I'd like to thank Williams for the opportunity they have given me over the last few years which has allowed me to achieve my dream of driving a Formula 1 car," Susie said. "It has been great to work with everyone at the team, both at Grove and trackside, and I'd like to thank everyone who has been part of my journey at Williams. I am now closing this chapter but looking forward to new challenges in the future."
The upcoming Race of Champions, held in London's Olympic Stadium on November 20-21, will mark her last competitive race in a career that she has pursued since she was 8 years old getting her start in karting.    Her decision to retire comes from her realization that the pursuit of her dream to become an Formula 1 driver would fall short, and that there wasn't much room left to continue.   Susie spoke to many news organizations that although she believed that women did have a place in Formula 1 and that they were indeed capable of competing at that level – a fact she proved in test practices; there simply wasn't enough momentum for her to continue the fight.   Susie Wolff retires as the lone figurehead for women in F1.
Claire Williams, Deputy Team Principal commented: "It has been a pleasure to work with Susie over the years and see her develop as a driver within the team. Her feedback and knowledge of the car has been an important part our recent development and we will be sorry to see her go. We want to thank her for all her efforts and wish her the very best for her future endeavours. We will of course be supporting both Susie and Felipe at the Race of Champions, and hope Susie has a great weekend to mark the last time we see her race."
A Step Back for Women in Formula 1?
This announcement certainly feels like a setback for women vying for the opportunity to reach the pinnacle of the sport.    With Susie being the strongest contender to date with ties to the elusive F1 series, her retirement as a result of the ironclad ceiling that is preventing a female from being on the starting grid is definitely a set-back for the many women hoping for that first break-through role model.   Susie said in an interview with the BBC, the problem is two-fold:
"We have two issues – not enough young girls starting in karting at a young age and no clear role model. Sometimes you just have to see it to believe it."
Although she plans to remove herself completely from the Formula 1 paddock, she does hope that her future endeavors will enable her to give back to women in the sport and help another continue the path to success in F1.
"I dared to be different, I want to inspire others to do the same."
What do you think about her retirement from racing?  What does this do for women in the fight to gain entry into Formula 1?