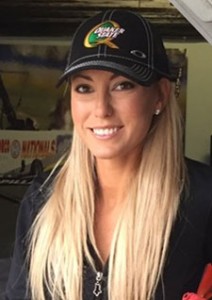 NHRA Top Fuel driver, Leah Pritchett just announced that she will be joining the Bob Vandergriff Racing team in 2016 to field a second Top Fuel dragster with the support of Quaker State.     Pritchett, who became a free agent last month when her Dote Racing team lost the Gumout sponsorship, pairs with teammate Dave Connolly, who returns driving the C&J Energy Services dragster for the full 2016 Mello Yello Drag Racing Series schedule.
This will be Pritchett's first full season since joining the Top Fuel ranks in 2013.  Leah began her racing career in the Junior Dragster ranks at the age of eight before moving on to a successful Nostalgia Funny Car and Pro Mod driving career.
The opportunity to run a complete NHRA Top Fuel season has been a goal that I have worked towards for a very long time," said Pritchett. "I am beyond excited for the opportunity to focus on making the countdown next season, competing for a Championship, working alongside Bob Vandergriff Jr., and re-introduce the Quaker State brand back into the NHRA.  This dream is now a reality, thanks in large part to the vision of Bob Vandergriff Jr., as well as the support of great companies and people along my way to this personal and professional milestone, and of course my fans."
Quaker State will be the primary sponsor of five NHRA races with associate sponsorships on both BVR Top Fuel Dragsters. Vandergriff is working hard in the off-season to secure more sponsors for the remaining races on the schedule. Quaker State has a long history with NHRA dating back to the '80s. The last car they sponsored was Tony Pedregon's Nitro Funny Car which won the 2007 NHRA Funny Car Championship.
Bob Vandergriff Racing has presented Quaker State with an opportunity to get back into the NHRA, and we couldn't be more excited for the 2016 season," said Gita Gidwani, Quaker State Global Brand Manager. "Quaker State is a hardworking motor oil that has great synergies for working with a hardworking and dedicated driver like Leah Pritchett and we look forward to backing her as she continues her impressive NHRA career."

We have two young drivers with extensive racing backgrounds, so 2016 should be an exciting year for BVR," added Vandergriff. "Our goal is to put both Dave and Leah in the top 10 and take home the championship this year."