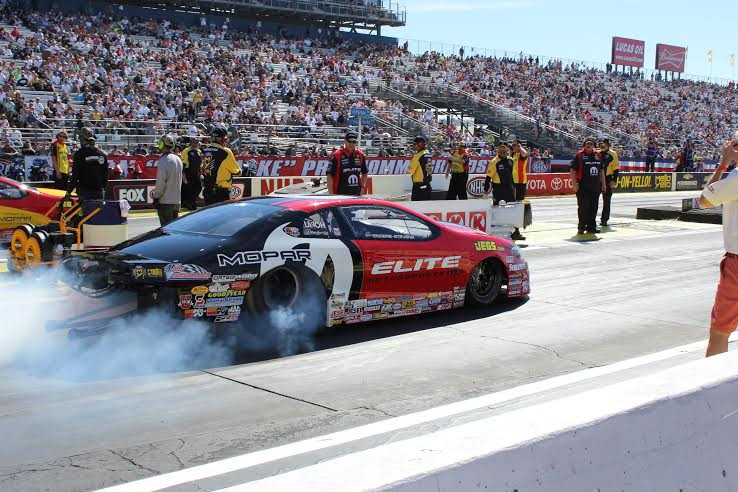 Slow start for Erica Enders in Pomona
After a slow start for Erica Enders in Pomona, the two-time Pro Stock World Champion didn't love her 2016 Valentine's Day so much.  Enders lost in the first round of the 56th Annual Circle K NHRA Winternationals, the NHRA Mello Yello Drag Racing Series season opener.   The champ shook the tires at the hit and almost immediately had to abort the run in her Elite Motorsports/Mopar Dodge Dart.
Enders could only watch as Elite teammate Jeg Coughlin Jr. sailed on to the victory, but she is far from distraught. Class-revolutionizing changes in the off-season by the NHRA including  
a manufacturer switch to Dodge
and an NHRA-mandated change to fuel-injected engines limited to 10,500 rpm — completely changed the Pro Stock program for 2016.    The Elite team is starting from scratch on their program, and Enders knows this is just the beginning for the World Championship team.
We've got to keep a positive attitude and keep the mindset that this is only a beginning for us,"

Enders said.

"We just finished putting our motors together

on Wednesday

in Phoenix. We can only go up from here, and I know that with all my heart. It is a very tough pill to swallow. I hate losing, I hate losing first round. If there's any consolation to it, at least it was to my teammate."
Enders qualified No. 9 in Pomona, the first time since the Sonoma, Calif., event last August that she qualified outside of the top half of the field.
We've got to do some work with these race cars," Enders said. "That run marks run No. 15 under our belts, and that's nothing, considering I had over 300 runs on my other car. We'll learn it, we'll get it, and we'll be back to the top — you bet your butt."
Enders had tempered her expectations for Pomona, knowing the new Dart and Mopar engine is early in its development by Elite Performance, but she didn't expect such tire shake against Coughlin.
The track was way different today than it was the whole weekend," Enders said. "We run behind the fuel cars, and they did zero track prep, which is pretty detrimental to our class. Of course, being first out doesn't help, but that was our own fault.  All things considered, coming here we figured we'd be a middle-of-the-pack car, and that's exactly what we were. We're going to go home and go to work on this stuff. We've got a couple weeks until Phoenix, and in between Phoenix and Gainesville there's another couple of weeks. I fully expect by the Gatornationals to be a lot more competitive. We'll keep moving in the right direction."