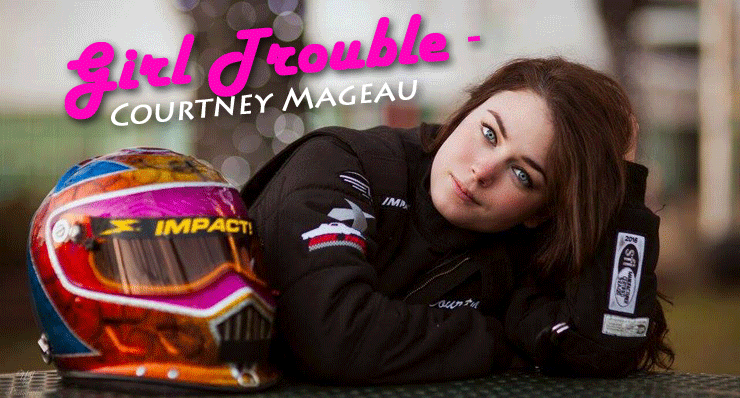 Edmonton, Alberta native Courtney Mageau grew up immersed in Drag Racing.   The youngest in a family of four girls, her father and grandfather had raced alcohol altereds and funny cars while she was growing up.     The elder girls often would accompany dad to the track, while Courtney and her other sister stayed home with their mom.    At bigger events, when the entire family would attend the race, Courtney remembers sitting in the stands to cheer on her dad.
…Although I didn't know much about cars and engines, I loved sitting in the stands when my dad went up to race."
Each of her older sisters were given shots in the junior dragster ranks, but none really took to the sport.  That was until, at age 12, Courtney raised her hand… "Hey, do I get a turn?" and a new legacy was born.
I don't know if I'll ever truly understand my motivation to start racing in the first place. I think part of it was wanting to do something that was unique, that none of my friends did. Another part of it was getting to spend quality time with my dad. The other piece of it was having grown up a pretty shy, un-athletic, kind of scared kid, I was just grasping at straws trying to find something to be passionate about! Whatever the reason, I started racing when I was 13 and haven't looked back."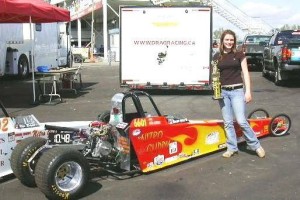 Starting with the junior dragster she raced at 13 years-old, Courtney Mageau felt she had a bit of a late start to the sport.
People are often surprised to hear I started racing so young, but drag racers know that is almost a late start for kids, with many starting to run the class at 7 or 8 years old."
Still, she traveled with her father and grandfather to different tracks, racing in different conditions and facing new competitors she wasn't familiar with.    Though she was gaining experience, she didn't have many breakthrough moments in the class, finishing 2nd only once during her three-year stint in the Junior Dragster ranks.
I had a lot of fun, but I wouldn't exactly say my car was competitive."
Moving Up – Crewing and Brackets
When she turned 16, Courtney sold her Junior Dragster and focused her energy on becoming a crewmember on her father's team for the next two years.  In 2009, she would climb back behind the wheel to earn her competition license in an ET Bracket Dragster, running twice that season.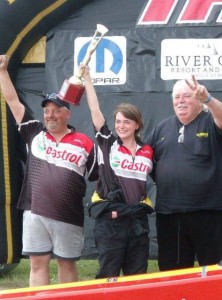 But her big breakthrough moment came during the 2010 season, when Courtney would take home the championship at the IHRA Rocky Mountain Nationals in the Top ET category.   19-year-old Mageau fought through a full, tough field to land herself the victory in the class.
It felt like I had to win more rounds in that event than I had won in my cumulative years of racing in the junior program! The whole weekend, I kept waiting for the spell to break, but it didn't. To experience my first career win at such a high profile event is indescribable. After going home that weekend, I approached racing with higher confidence and higher stakes! There have been many more rounds and events won since then, but nothing compares to that first-time feeling."
She spent 6 years in the class, while working on and receiving her Bachelor of Commerce Degree from the University of Alberta in 2013.   In addition to her driving duties, Courtney handles sponsor relations, and social media marketing for the team, also working in the shop 2-3 times per week as crew, doing maintenance on the car, while balancing workload at an engineering firm in Human Resources/Recruiting.
My Bachelor's degree in commerce has helped quite a bit to build my confidence speaking to people. If someone had told me 5 years ago that I would be primarily responsible for talking to sponsors, I would have freaked out. As it is, the transition has come pretty naturally.

I don't think it matters what you take in school-  but I'm a firm believer that those who stay in school and who go that step further to pursue post-secondary show a certain level of determination and commitment to get things done that will help them to be successful in motorsports."
Girl-Trouble Funny Car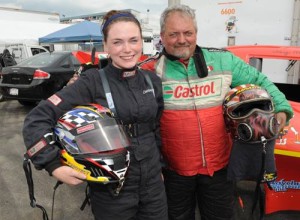 Now, 25-year-old Courtney Mageau will be following in the legacy of her father for a run at the Pro-Nostaglia Funny Car division, the Blown Alcohol Funny Car class that he competed in when she was a child, running 6.90- 7.50 seconds in the quarter mile.
After acquiring a 1955 Thunderbird Funny Car in October 2014, they spent the off-season preparing the car for competition.   A used car that had sat untouched for nearly a decade, the team had their work cut out for them, making repairs and improving the engine combination.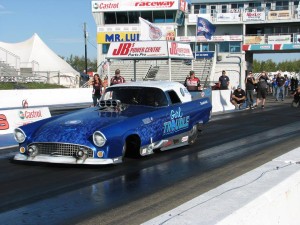 Last year, Courtney earned her competition license in the class, and plans a full season of competition in 2016 "Girl Trouble" T-Bird.
I'm very excited because this is the class my dad was racing in when I first got into Junior Dragster driving, and many of the people he raced against are still driving in the class (as are some of their sons). I'm the first female to license in this class in Alberta. I get the privilege to pave the way for other female drivers in Western Canada, along with Sherri Bodnarchuk who hails from Saskatchewan, Canada. I plan to stick to this class for a couple of years and see where things take me from there!"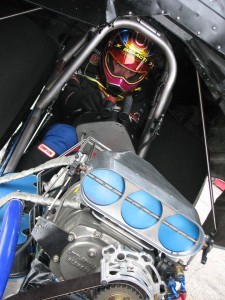 Courtney leans on the nearly 50 years of racing experience behind her family name, crediting her father as her main coach since day one, adding "His advice is gold. I trust him and know that together we have what it takes to win."
Their biggest road block, like many racers, is in finding resources and finances to be competitive.    Growing up in a big family, the team came from humble beginnings, and work hard to make their efforts and resources last in such an expensive sport.
Every car I have raced has been purchased used and repaired by our family and skilled crew. Some racers have the luxury of pushing their cars to the limits- and if something breaks, they replace it. We don't have that option, and are always fighting to put together the best racecars we can with limited resources. Our sponsors help keep things affordable, but we have to be creative and slowly build things as we move to the next level. That's been the biggest challenge."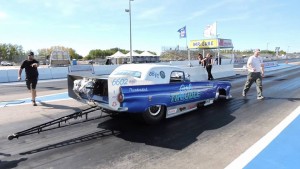 With the Drag Racing community being one of the most supportive of women, she has always felt very welcomed by her racing counterparts.
If people are critical, they are careful not to say it to my face! If anyone scoffs when they see me (or any other girls) driving up in the other lane, I would be pleased. Only half of the sport of drag racing takes place on the track- the other half takes place in your head. The amount of focus it takes to react and to make decisions when you're running at 170 mph+… I like to think that if someone's not taking me seriously just because I'm a female, then they aren't entirely bringing their A-game, and they're probably going to make mistakes for it. The best way to dispel any nay-sayers is to kick their butts."
But outside the sport, many people are shocked to learn that Courtney is a drag racer.
The overall mix of being young, female, and working in an office environment doesn't fit the "Race Car Driver" stereotype. No one ever believes that I drive these cars until I show them pictures or videos or the oil under my fingernails! I am fortunate that when people get over the initial surprise, they are supportive and excited. "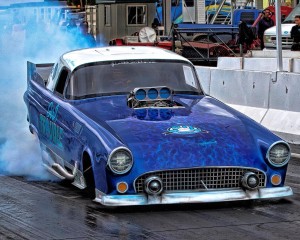 Things get pretty chaotic at the track between driving the racecar and handling all of the crew responsibilities of doing the maintenance between runs, but Courtney is very dedicated to remaining available to the fans.   She knows how important their support is to the sport and the tracks, especially loves talking to the kids, and the young ladies in particular, about what she does at the racetrack.   She takes photos with them in the car, answering questions and hoping to inspire them to achieve their dreams.    Having been on her own career-journey, she offers this advice:
Don't be afraid to ask for (or offer) help. If you're looking to get your start on a team, spend some time wandering around the pits getting to know the teams and seeing if any are willing to train new crew. Don't be afraid to get your hands dirty. If your school offers a trades or automotives option, take it! Even if you don't become involved in racing, the skills you learn in these classes will benefit you for your whole life. Don't feel afraid to break the stereotype of "male hobbies" or "female hobbies." And don't be afraid to be well-rounded or to try new things. When I was in highschool, I was on my school's cheerleading team. If you want to see someone raise their eyebrows, tell them you're a cheerleading dragracer. But who's to say you can't be both?"
We couldn't agree more.    We can't wait to see Courtney Mageau and her Girl Trouble Funny Car in 2016 and beyond.  We wish you all the best!