Erica Enders/Elite Motorsports Dodge Dart GT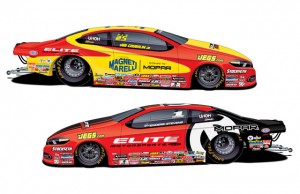 Two-time NHRA Pro Stock World Champion, Erica Enders announced today (via NHRA.com) that her Elite team will be carrying the MOPAR banner in 2016.   Enders and her Elite Motorsports teammate, Jeg Coughlin Jr. will be leading the factory backed MOPAR team in the Pro Stock ranks, campaigning a new fuel-injected Elite Motorsports Hemi-powered Dodge Dart GT.
The Mopar brand is excited to announce that two proven champions, Erica Enders and Jeg Coughlin Jr. will fly the Mopar colors in the NHRA Pro Stock class next season," said Pietro Gorlier, Head of Parts and Service for Mopar.  "We couldn't ask for greater competitors or brand ambassadors to represent us at the drag strip."
Enders is fresh off a dominating season that saw nine event wins, 11 final-round appearances, and six No. 1 qualifying spots en route to her Back to Back Championship in 2015.   She bested Angelle Sampey for the most wins by a female in one season with her nine victories.   Erica last competed in a Dodge during her 2006-2007 season, and is excited to chase her third consecutive World Pro Stock title in 2016.
"We're entering a new era of Pro Stock and it's going to be awesome to take a new Mopar-powered Dodge Dart into 2016 and beyond," said Enders.  "We won the last two championships with carburetors and now the goal is to win the first one with fuel injection.  The Dart Pro Stock cars look awesome and I'm already very familiar with Mopar because I've driven for them in the past.  It's an honor and a privilege to represent them moving forward."