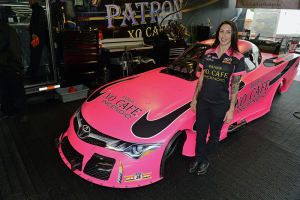 The annual 'Free Mammograms for the Fans' campaign hosted by Alexis DeJoria Racing offered NHRA Drag Racing fans the opportunity to receive a free mammogram at NHRA races, regardless of health insurance status, while attending the AAA NHRA FallNationals in suburban Dallas and the NHRA Toyota Nationals in Las Vegas.   115 women opted to take advantage of the free screenings, held during Breast Cancer Awareness month.
One in eight women will develop invasive breast cancer during their lifetime, according to the American Cancer Society.   Alexis DeJoria Racing goes beyond simply working to raise awareness of the disease, providing a proactive service that could result in lifesaving benefits to female race fans. The 2015 'Free Mammograms for the Fans' program was made possible thanks to generous donations from the Patrón Spirits Company, Toyota, Kalitta Motorsports and fan contributions.
After the program experienced two successful years of partnering with Nevada Health Centers (NVHC) to offer free screenings at the NHRA Toyota Nationals, the decision was made to not only renew the Las Vegas program, but to add the AAA NHRA FallNationals as well. Alexis DeJoria Racing partnered with Baylor Health Care Systems to offer free screenings to women attending the Texas Motorplex event.
Baylor and NVHC's mammovans (mobile mammography units) were parked in the race pits and were available to any female ticketholder over the age of 40 on Friday and Saturday of each race weekend. 56 women elected to undergo a screening in Dallas and another 59 women in Las Vegas received a screening, totaling 115 overall free mammograms at NHRA tracks.
"It was another successful year and I just want to thank everyone at Baylor and the Nevada Health Centers for sending their mammovans to the track, and the wonderful women that volunteered their time working in the mammovans, making everyone feel comfortable.  Getting a mammogram can be a little scary at first; it's just that fear of the unknown. Anytime we can give back like that, it's a good day. We use our position in the racing community to bring more awareness to these causes and help people out, and thankfully we were able to do that again this year."
According to Nevada Health Centers, a mammogram for an uninsured woman can cost anywhere between 250-300 dollars, and the high out-of-pocket cost is one of the main reasons many women go without this important test. For the affordable price of an NHRA race ticket, women were able to get checked, and enjoy the races.
"I'm really grateful to have been able to bring our free mammogram program back out again this year to Vegas and introduce it in Dallas. With the support of the Patrón Spirits Company, Toyota, Kalitta Motorsports and all of my great fans that pitched in, we were able to screen 115 women for breast cancer," said Alexis DeJoria, driver of the Patrón XO Cafe Incendio Toyota Camry, which was 'pinked out' during the month of October.