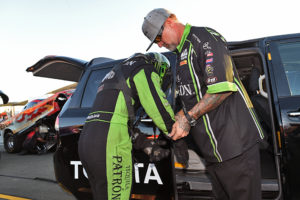 NHRA Funny Car driver, Alexis DeJoria injured in first round accident during the Toyota NHRA Sonoma Nationals, is undergoing treatment for a broken pelvis after a trip to the local trauma center.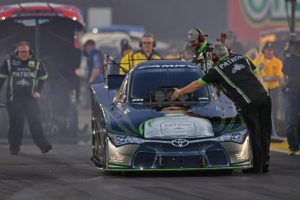 DeJoria, driver of the Tequila Patrón Toyota Camry, was competing in the left lane alongside opponent John Force in the opening round of eliminations on Sunday morning at Sonoma Raceway. The Patrón Toyota Camry lost traction and made a violent turn to the left as soon as DeJoria stepped on the throttle, causing her Camry to make impact with the left retaining wall.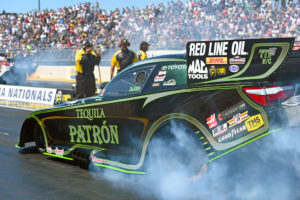 DeJoria exited the vehicle under her own power, but immediately knew something was wrong.  Upon a quick evaluation from on-site medical personnel, she was transported via ambulance to Queen of the Valley Medical Center in nearby Napa.  After x-rays and a CT scan, doctors diagnosed DeJoria with a high-energy fracture of the left pelvis.  The fracture was caused when she struck the wall. The injury does not require immediate surgery, but is extremely painful. DeJoria is in good spirits and was more concerned with the condition of her race car, and if it was ok. She was released from the hospital on Sunday afternoon, and will start intense physical therapy as soon as possible, determined to get back on the track.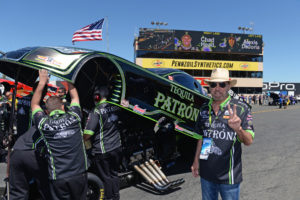 The Patrón Toyota Camry qualified No. 11 with a 3.946 second, 319.45 mph performance before Alexis DeJoria injured in first round accident.
DeJoria and the Tequila Patrón Toyota Camry Funny Car team were scheduled to compete next at the NHRA Northwest Nationals in Seattle, Washington, but due to injuries sustained, that race is to be determined.