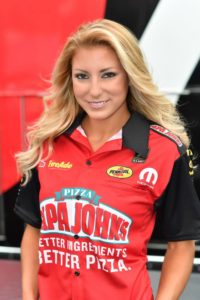 The Top Fuel class just got a little more appetizing.   National pizza franchise, Papa John's Pizza joined Leah Pritchett and her Don Schumacher Racing Top Fuel dragster team at this weekend's NHRA national event in Seattle, Wash. and will continue on with them on board at the upcoming race in Brainerd, Minn.
Papa John's Pizza joined Leah Pritchett at the 29th Annual Protect the Harvest NHRA Nationals in Kent, Wash., ranked 10th in championship points in the NHRA Mello Yello Drag Racing Series. She won this year's second event title near Phoenix.     Pritchett would qualify in the No. 8 position for the event, pairing her first round against Morgan Lucas for Sunday's opening round of eliminations.
Career-best E.T. leads to first round loss
Sunday morning's routine for the popular 28-year-old driver from Redlands, Calif., who lives near Indianapolis, was disrupted by a rushed early call for prerace driver introductions.  Race officials pushed the morning schedule ahead in an attempt to beat pending precipitation arriving before scheduled opening rounds of eliminations at Pacific Raceways.
The rain did come, and after about
90 minutes
, the sky cleared and track was dried to set the stage for Leah Pritchett to race Morgan Lucas. As the higher qualified dragster, her crew chief, Todd Okuhara, had choice of lanes.
Pritchett beat Lucas to the finish line with her career-best elapsed time of 3.707 seconds at 325.30, but her day unfortunately ended before that when she was disqualified for leaving the starting line prematurely by 33-thousandths of a second and recorded a redlight (false) start.
"It's going to take a lot more than that to break my spirit," she said. "We win as a team and lose as a team. My guys have my back and I always have theirs.  The plan today was to leave (the starting line) first and we definitely did that," she joked. "I know I'm a better driver than that. That (3.70) was the best E.T. of my career, and we have a great car."
It was her first red-light start in a side-by-side race
in four years
of driving a Top Fuel dragster.
One bright spot for her on the cloudy day was that she maintained her hold on 10th place in the Top Fuel standings when her closest challenger, Terry McMillen, also lost in the opening round. Pritchett, who won this year's second event title in the Mello Yello Drag Racing Series, holds a 19-point lead over McMillen heading into the next event
in two weeks
at Brainerd, Minn.
"We get to race at Brainerd with Papa John's, and we continue our chase to get into the Countdown thanks to Papa John's, FireAde, Mopar and Pennzoil.  Stability is something I've been hunting for for a very long time, and Don Schumacher has been able to provide that with our partners."
 Papa John's founder, chairman and chief executive officer, John Schnatter, visited DSR headquarters a few weeks ago and got his first experience with nitro when DSR fired up Pritchett's dragster.
"This means so much to me, our team and the sport of NHRA drag racing," said the graduate of Cal State San Bernardino. "We are huge fans of Papa John's Pizza and are confident it will help fuel us to victory," added Pritchett. "My dream is one day to walk into a location and order a 'Leah's Nitro Pizza' on the Papa John's menu.  One requirement – it has to be spicy!"
 Schnatter founded Papa John's in 1984 when he knocked down a wall to a broom closet in his father's tavern in Jeffersonville, Ind.. He then sold his prized 1972 Z28 Camaro to purchase $1,600 worth of used pizza equipment and began selling pizzas to the tavern's customers out of the converted closet to help save the business. Today,
Papa John's
is the world's third largest 
pizza delivery
 company with over 4,900locations in 50 states and 40 countries and territories.
"I am excited to add another quality ingredient to our Papa John's team with our sponsorship of Don Schumacher Racing and Leah Pritchett," said "Papa John" Schnatter.  "Leah's passion for racing is like my passion for pizzamaking; always looking for ways to improve and get better."  
 Pritchett's dragster is a salute to his iconic, gold muscle car that he reacquired and owns today.