Today marks a very sad day in my racing world.
American Autosports, the longtime producer of the legendary Fun Ford Weekend Series and more recently Battle of the Brands, has just announced that due to current economic climate, they have ceased operations.
Fun Ford Weekend began in 1991 and spearheaded the Ford Drag Racing movement that gave so many of us a great competitive place to race. We watched PRO 5.0 grow from just a 10 second class into the low 6's at over 200mph, Outlaw from true 10.5″ 9 and 8 second rides, into the high 6 second class on 10.5W's that rivaled the Pro from just a few years back, and huge advancements in Renegade, Warrior, Drag Radial, and my favorite, True Street.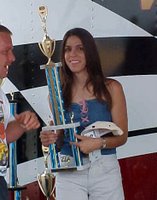 Fun Ford Weekend is where I cut my teeth drag racing, starting in the Street Bracket. From there, I moved into True Street, where I won my first race at Gainesville in 2002. With the addition of a drag radial class in 2003, I runnered-up in my first heads-up race, became the first woman in FFW to break the 8 second barrier on a drag radial, and runnered-up for my first championship. In 2006, I moved up to Pro 5.0, becoming the first and only woman to pilot a 6 second, 200 mph car in Fun Ford history. I runnered-up for the Pro 5.0 championship as well that year as a rookie in PRO 5.0. Fun Ford Weekend made me what I am today, and I'm eternally grateful for everything I learned all those years and all the people who made racing with FFW so much fun.
But, in additon to that, it created a home for a huge family of people, a tight group of the very best friends I will ever have. Unlike the stringent and regulated NHRA/IHRA events, Fun Ford events were filled with commraderie and fun, and some of the best times happened after the racing was finished for the day.
I'm sad that we no longer have FFW/Battle of the Brands to bring us together, and hope that all of my racing counterparts still continue on somewhere when this mess of an economy picks itself up and dusts off.
Thanks to Bill & Cheryl Alexander, Crystal, George and the rest of the FFW crew for a decade (and more) of priceless memories!
We will miss you!