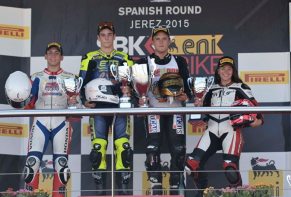 With one race remaining, 23-year old Auckland motorcycle racer Avalon Biddle has cinched the first ever 2015 European Women's Cup Championship.  After qualifying an off-paced 24th position at Jerez in Spain (which later was discovered to be a rear suspension issue), Biddle only had to complete 10 laps to secure the Women's Cup and Championship.   She rode safe, completing her necessary laps cautiously, finishing 19th at Jerez.
"I knew I only had to complete the 10 laps in order to have enough of a points lead to win the Women's Cup. On the grid my mind was fluttering with every imaginable outcome for the race but cleared immediately as we rolled up to the red lights. I decided to ride as safe as possible but still managing to mix it up with a few of the guys.  I will never forget looking down with a trophy in hand and seeing my mum all the way from NZ, as well as Julie Nelson and also my boyfriend Jake who have been such amazing support all season."
2015 European Women's Cup Championship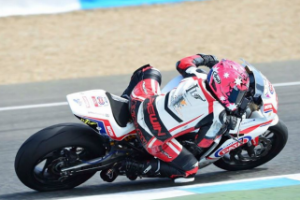 Biddle has dominated the inaugural FIM Women's championship, run within the European Junior Cup races.  Women racers compete as part of the PATA European Junior Cup on identical race prepared Honda CBR 650F motorcycles at all 8 European rounds of the FIM Superbike World Championship. Female riders score points in both EJC and the Women's Cup, with the highest point scoring female being appointed as the 2015 FIM Europe Women's European Cup winner.
Her significant points lead that sealed up the championship early, was the result of five impressive wins (Aragon, Donington, Portimao, Misano & Jerez),  in the eight race series.   The other two races, she posted DNFs, and still has one race left to contest in the series.
She currently sits in the 23rd overall European Junior Cup points, and has impressed many with her consistency on her Honda CBR650F machine.   Her prize for the overall Women's Cup winner is a new Honda CBR 600 RR, prepared to European Superstock 600 specification.
The final round of this season's championship will take place at Magny-Cours in France on October 2nd.