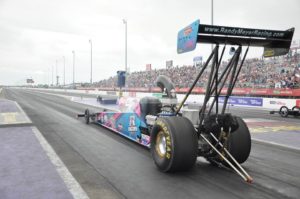 The fun is just beginning in what will be an exciting and busy homecoming weekend for Megan Meyer.   The 28th Annual NHRA Kansas Nationals at Heartland Park Topeka will mark the Kansas native's fourth event of the season in the Top Alcohol Dragster class, and her third national event start in the Racer's Evolved A/Fuel Dragster.
Meyer began her 2016 rookie season with a string of final round appearances, en route to her first win in Charlotte's 4 Wide National event.   She earned two coveted Wally trophies that day – one for the Best Appearing Crew award, leading up to her very emotional first TAD class win.
"This weekend we are hoping to lay down some fast numbers and keep up our momentum.  After a few weeks back at home I'm very excited to be back at the track and to be racing at my home track this weekend. I'm thrilled that the new ownership of Heartland Park Topeka has taken on the duties of updating the track surface, equipment, landscaping, and tower, and they have greatly improved the facility."
Meyer and her Racer's Evolved A/Fuel Dragster will be featured in the Heartland Park Topeka trackside press event on Thursday morning at 11:30AM.   Megan will also join other NHRA drivers Thursday evening at the local Kansas City T-Bones Professional AA Baseball game, signing autographs for fans  at Community America Ballpark on Thursday from 5:30PM-6:45PM.  Megan, along with Brittany Force from Top Fuel and Courtney Force from the Funny Car category, will all take the field before the opening pitch to share information about the NHRA Kansas Nationals event with the T-Bones baseball crowd.    
Trinity Performance Wear Sponsorship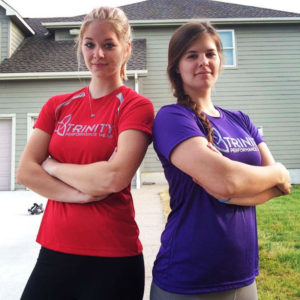 This weekend, Megan Meyer will also debut a new partnership with Trinity Performance Wear, LLC, a Shawnee, KS based fitness apparel company founded by 12 year-old Abby Flickner.   Flickner is a two-time USAW Youth National Olympic-Style Weightlifting Champion, has attended development camps for elite youth weightlifters at the US Olympic Training Center in Colorado Springs, CO; and holds several American youth weightlifting records to her name.
"I'm really excited to partner with Megan Meyer for her race day workouts," said Trinity Performance Wear founder Abby Flickner. "To meet the physical demands of racing, it's important for drivers to maintain their fitness. Megan shows a tremendous amount of sportsmanship by helping her competitors stay fit!"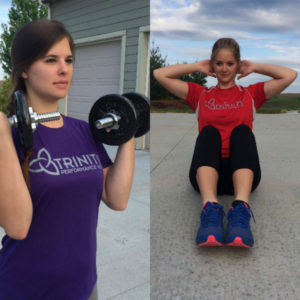 Meyer and Trinity will be combining efforts to offer a unique new fitness program for racers.   The workout program will feature a Sunday Morning Fit Camp Workout session for drivers and crew members at Heartland Park Topeka, with special give-aways for participants courtesy of Trinity Performance Wear.   Racers interested in taking part in the Fit Camp activities can meet Megan and Abby beneath the grandstands on Sunday morning beginning at 6:20AM.   The workout session will last from 6:30AM – 7:15AM.
"I'm grateful for the new partners we have with our team; Trinity Performance Wear is a perfect fit for me because I focus on the benefits of a healthy active lifestyle, and having Herbalife Nutrition and Herbalife24 on board brings together the perfect trio," said Megan. "We will be having Sunday morning workout sessions at all of our races for all drivers and crews to get in a quick workout to feel refreshed and energized to take on the race day duties."