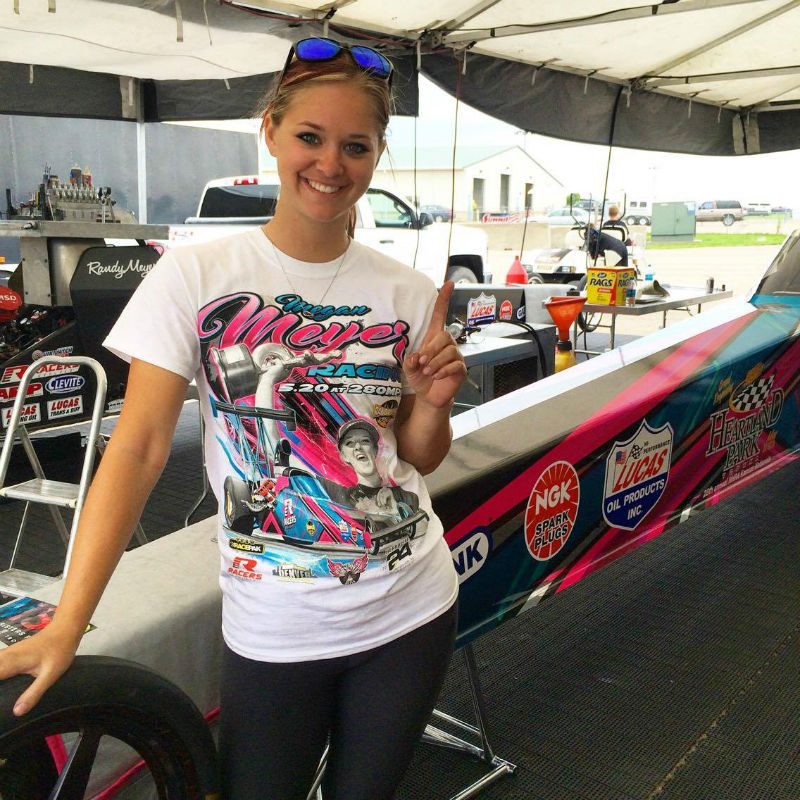 A fantastic hometown showing for NHRA Top Alcohol Dragster Rookie Megan Meyer, as she earns another runner up at Heartland Park Topeka for the 28th Annual NHRA Kansas Nationals.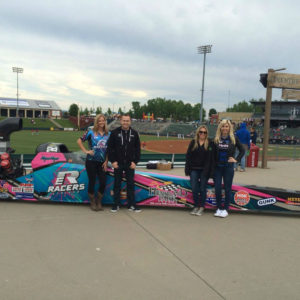 Megan would begin the weekend with a whirlwind PR schedule that included special apperances with her Racer's Evolved A/Fuel Dragster at the NHRA Heartland Park Topeka Press event, and a special appearance in nearby Kansas City at the  T-Bones Professional AA Baseball game, where she signed autographs with fellow female racers Brittany Force (Top Fuel) and Courtney Force (Funny Car).
The busy weekend also marked the first time that Megan would be racing alongside her father, veteran TAD racer Randy Meyer in NHRA TAD National competition.   The Meyer Racing team would have their hands full sorting two cars, as Randy would struggle in early rounds of qualifying.
"Going into the Kansas Nationals we knew we would have our plate full. This was only the second time we've had both Top Alcohol Dragsters running at the same time this year, and it was a big mountain to climb for our team. The stress was high with the tire shake that we had in my Dad's car for the first 2 qualifiers which once again, caused a lot of problems. But we faced them head on and fixed the damage and was able to get the car turned around to qualify 5th and win first round."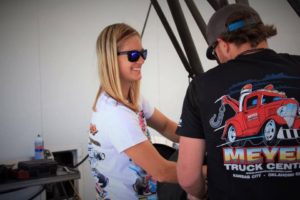 In qualifying, Megan Meyer would start off strong, running a 5.287 second E.T. at 268.81 mph – moving her into the No. 2 qualified position at the end of round one.   Second round, she would chatter the tires out of the gate, shutting off.  But in the final attempt, Megan would grab the top qualifying position for the first time in her career, running a 5.250 at 270.54 mph in the Racer's Evolved A/Fuel Dragster.   Her father, Randy, would take the No. 5 position with his Meyer Racing Dragster, and would be on the same side of the ladder as Megan.  Potentially, if both the Meyer dragsters advanced in the first two rounds of eliminations, they would be meeting in the semi-final round for the first time.
Saturday evening, Megan would face the number fourteen qualified Monroe Guest in the opening round of Top Alcohol Dragster eliminations.   Guest would immediately smoke the tires, while Megan would run a great looking 5.258 second, 274.83 mph for the win into the second round.
We kept it very consistent with my car all weekend – same crew, same motor combination that we've been running all year that is proven to win races. We had an outstanding performance on Saturday as we ran a pair of 5.25s and set low ET all weekend. I claimed my first official number 1 qualifier, and I couldn't have done it without my guys."
Megan would have the competition bye in round 2 for an automatic advance to the semi final round, where she hoped she would face her father Randy, who did advanced over his round one competitor.   Megan would begin the session with another strong showing, running a conservative 5.364 at 269.13 mph for her competition bye run.   Unfortunately, her father was eliminated in round two by Lee Callaway, whose 5.353 at 267.22 mph run would grant him lane choice over Megan in the semi final round.
In their only previous encounter, Lee Callaway took the win light over Megan Meyer.   This time, Callaway would get the starting line advantage over Megan, with a 0.026 reaction, to Megan's 0.065.  But Megan's Racer's Evolved dragster was able to reel him back in by 1000 feet, taking the win with a 5.298 at 270.59 mph over his 5.360 at 267.59 mph.
This would place Megan in her fourth final round this season – with two runner-up finishes at the Gatornationals and LODRS Belle Rose regional event; as well as her first win at the Charlotte 4-Wide event.   She would face the defending event champion, Joey Severance, for the first time in her career.
Megan would be out of the gate first, but ran a slightly off-paced 5.445 at 263.20 mph.  Severance quickly bridged the gap and continued on for the win, running a 5.327 at 270.27 mph.   Megan would earn the hometown runner-up at Heartland Park Topeka for the Kansas Nationals.
Despite the high-stress weekend, we had a great time as a family and team at Heartland Park. The facility looks incredible and hats off to the new owners for all that they did to put on the Kansas Nationals. I enjoyed the displays we did together to promote the race, and I greatly appreciate the recognition I received from the local community."
Missed the live action?  You can catch an encore presentation of the 28th Annual NHRA Kansas Nationals FOX television coverage on FS2 Thursday, at 9:00PM EST
New Megan Meyer Racing Apparel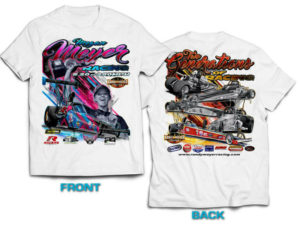 Megan Meyer and the Randy Meyer Racing team also introduced a new partnership with Denver Print House, a one stop facility specializing in award winning decorated apparel over the weekend.    The Denver, CO based organization developed and printed the new Megan Meyer and Randy Meyer Racing team t-shirts in their state of the art production plant.   Fans interested in getting one of the colorful new shirts can email [email protected] with their t-shirt size to order.
Denver Print House also is a great match for my team since I am a freelance designer. We are working together with Racers Evolved to help bring great design and artwork to the Sportsman classes."