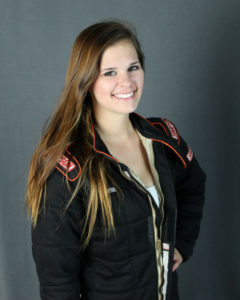 She's grown up all her life around the sport of Drag Racing, born into the very successful Meyer Racing family dynasty, traveling the country in support of multiple championships in the Top Alcohol Dragster category.   But now, the twenty-one year-old Spring Hill, KS is ready to embark on the next stage in her racing career.  Rachel Meyer moves up to TAD for the upcoming Kansas regional event.   Meyer follows her sister, Megan Meyer, the rookie sensation currently sitting No. 2 in the national TAD points series, and her multiple championship veteran father Randy Meyer into the Top Alcohol Dragster Ranks.
Rachel Meyer | Starting Out
Rachel Meyer has grown up immersed in drag racing from birth.   Her father, legendary TAD driver Randy Meyer, has been racing competitively for over 30 years.   Her earliest memories included Friday and Saturday night family outings at their home track, Kansas City International Dragway.
When Rachel became old enough at age 8, she was given the opportunity to enter the Junior Dragster program, racing there until she turned 18.  She finished in the top ten almost every year in the Junior Dragster program.  Her best finish came in 2007, when she finished No. 5 in the KCIR points chase.
"I started in the Jr dragster level running 12.90 seconds at around 45 miles per hour. My dad explained what to do for the most part and I taught myself when the right time to leave the starting line was and how to wheel race."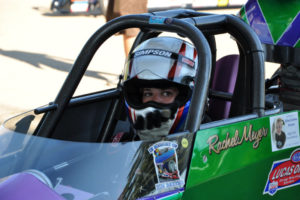 At 17 years old, she moved up to a Super Comp. She would drive a 1999 Undercover dragster with a 565 cubic inch, Stinnett built motor. There, she finished a best of No. 18 in the overall Division 5 points chase in 2014, and won her first Super Pro race in 2015 at MoKan.
 "As soon as I turned 16, I knew I was ready to go faster. The rush of going 170 mph in 7.90 seconds is amazing and I am ready to go even faster."
The young go-getter is ready to take the next step, adding that she is proud of the progress that she has made and looks forward to surprising more fans and competitors whom she adds are "shocked that I drive the cars especially because of how fast they go."
"One time, at Topeka divisional my fist year racing the super comp, when I went to suit up, the guy I was racing just looked at me and chuckled then got in his car, but I ended up beating him anyways."
Rachel Meyer Moves Up to TAD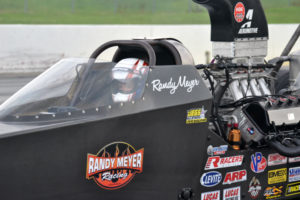 This past weekend, Rachel Meyer made the jump up to her father's Top Alcohol Dragster entry, making her required licensing passes to earn her NHRA competition endorsement for TAD.  The move was a big jump for the busy college student, who in addition to taking summer classes also works full time.   She had made two preliminary test passes two years ago, but a full schedule prevented her from completing the required testing until now.
"We have tried all year for me to get my license, and most of the nationals we went to this year did not test on Monday after the race, so this was the first and only chance we had for me to test all year."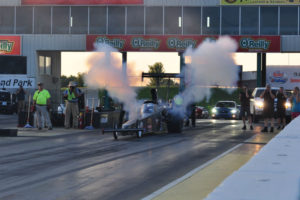 For Rachel to be eligible to complete in the upcoming event for the LODRS Regional series at Heartland Park Topeka, Meyer would have to first satisfy all of the NHRA licensing requirements in her father's A/Fuel dragster.  But Meyer took the added pressure in stride, completing 3 half-track passes on Friday, and one 1000ft pass Saturday, followed by 2 full-track runs. Her best time was 5.60 at 260 mph, the second best run was a 5.80.
"My first time in the TAD, I was scared to hit the gas honestly. I did not know how the G's would feel pushing me back in my seat. The first half track pass, I wanted to go the full track, but I started to get 'time zoned' (a type of tunnel vision drivers experience at times), so I did not have full control of the car and lifted. When I finally made my first full pass, it was a thrill. Everything was just a blur going down the track but it felt so fast and was so much fun. It truly is an addiction that I don't think I will ever get over. I just wanted to keep getting in the car and making passes."
With both her veteran father in her corner, as well as her sister, who can relate to the recent switch herself as a rookie in the class, Rachel has great support behind her move to TAD.
"I relate better to my dad when I have questions about stuff. We are practically the same person and have the same interests. I look up to him so much and learn all of my training from him, so when ever I have questions, he is the first person I go to."
With her licensing runs completed, Rachel Meyer moves up to TAD for her debut at the LODRS Central Regional event July 30-31 at Heartland Park Topeka.  She will be driving her father's A/Fuel dragster in attempts to qualify for the field, joining her sister Megan, who last year made it to the semi-finals at the event.
Rachel Meyer | Behind the Wrench
She knew after her first pass way back in the Juniors, that drag racing was not only in her blood, but would become her passion. But it wasn't just driving that captured Rachel's attention – her interest was sparked behind the wrenches between races from a young age as well.
"Watching people work on my dad's dragster, I had always found it interesting and had wanted to learn how to work on it. I went outside one night when my dad was working on his car and asked if he could teach me what he was doing, ever since I have loved helping work on his motors."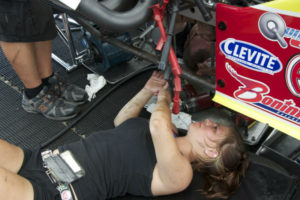 Rachel spent countless hours in the shop with her father. He taught her the basics, and mentored her both on driving and working on the car. The hands-on experience would lead her to become versatile between rounds. Rachel fills in on duties where ever needed, from working on the engine, changing the clutch, helping her father with tuning, or packing the parachutes.
"When I am working on stuff (on the car),  guys like to jump in and do my job because they think I can't handle it or because they don't trust me and it gets annoying. If my dad trusts me enough to work on his stuff, then other people should back off and let me do my thing."
Adding to the hands-on knowledge taught to her by her father, Rachel also attends Pittsburg State University.  She is pursuing a degree in Mechanical Engineering, with an emphasis in design while minoring in Business Administration.   Being a woman in a male dominated field (Engineering) can be challenging at times for Meyer, who says that "most people think you are a joke until you prove or show them that you are serious about this and you can handle it."   But 13 years of experience along side a multi-championship winning team, and her own driving prowess navigating the male-dominated world of Drag Racing makes her well-adapted to the challenge.  She isn't scared to get in and get dirty, turning wrenches and being hands-on with the racecars, believing it also helps her ultimately  become a better driver.
"It has helped me learn about the car and why it might react the way it does sometimes and it will help prepare me as a driver, because if I feel something happen as I'm driving down the track, I will have a better understanding of what happened or why it happened."
 Rachel Meyer | The Future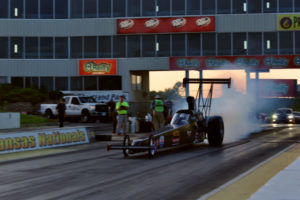 Rachel plans on completing a full season in the Top Alcohol Dragster class next season, along side her sister Megan.  The two sisters hope to take the class by storm, keeping up with the winning family legacy in TAD.  But what kind of family rivalry does that create between the two young guns?
"Megan and I have been racing each other since we raced Juniors. We are used to friendly competition and I love getting the chance to race her, no feelings are ever hurt during the race. It is just fun to go out and race your friends or family and just have a good time, whether you win or lose."
Eventually, Rachel hopes to combine her passion for driving and the experience she has working on the car, to become a utility driver – a double threat capable of wrenching and wheeling the car.
"My future plans include me hopefully tuning my own TAD and driving it. If it gets too much to handle with tuning and driving, then I would want my sister to drive the car while I tune it. For a life-long goal, I would love if I could become a crew chief from a top fuel team or drive a top fuel dragster, or possibly do both."
For now, Rachel Meyer moves up to TAD filled with excitement and optimism for a bright future ahead. She admits that the toughest part of the entire process has been finding time to fit in all she wants to have accomplished.
"I have had to take a lot of time out of my schedule to make time for racing and doing car displays to get my name out there. Also, I have spent endless hours out in our shop getting the cars ready and putting the motors together."
But those sacrifices will all be worth it come Thursday TAD debut at Heartland Park Topeka.  The Meyers Sisters can be found in action at the Central Regional race with  1 qualifying run Thursday, 2 scheduled Friday, and all eliminations held Saturday.
From all of us here at Horsepower & Heels, we wish the best of luck to Rachel Meyer on what is sure to be the beginning of an exciting career in TAD!