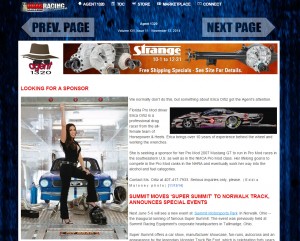 After chatting about my history, struggles and recent desire for a comeback, Eddie Maloney, a west coast friend of mine, decided he wanted to help me out by submitting a post on Drag Racing Online talking about my efforts to secure sponsorship.   The post, which appeared in their Agent 1320 column and on their Facebook page, marks the first time I've been in the drag racing press since my hiatus began back in 2007.
Keyboard Jockey-ing: Dealing with Haters
One thing that didn't take long to come back to me, is how being in the public news like that puts you out there for the masses to pick you apart.   It's one of the known necessary downfalls to being a woman in racing, the brutal chore of dealing with haters
Eddie, meaning nothing but well, picked a photo from my Latina Magazine photoshoot in 2007.   Latina Magazine is a fashion magazine (think Cosmo, Glamour) for hispanic women with a readership of over 2.5 million women (Latina.com).   The famous  photographer who conceptualized and shot the image, had just shot the likes of Eva Mendez the previous day.
For the photo, a stylist was flown in to prepare my "look" (hair/makeup/wardrobe) and the whole experience was a surreal one for this average drag racer.   (click the image at right to view full size)  I was placed in a fitted black pantsuit outfit, with a checkered tank underneath peaking out from the unbuttoned top.   I wore a set of beautiful stilettos, and was placed in a spectacularly lit trailer with a cool Mustang race car(not mine) behind me, foot atop a helmet.   It was, to me, a beautiful photo in which I not only felt proud to be a racer, but to be a beautiful and glamorous woman as well.  (It also was huge free exposure: like $45,847 worth- the going rate for an equivalent one page advertisement in the magazine.)
But this recent post took a little under 2 hours from when it hit the internet for the first hater to start the bashing.  I underestimated how much more problematic dealing with haters has become with the rise of Facebook (since my departure from the sport).
Shaming Women's Bodies
The comments had nothing to do with my skill as a driver, my character or experience.   Every comment centered around MY BODY.   Now, those that know me personally, know that I am extremely conservative and shy, which make the claims made online even that much more far-fetched.   Friends and people I had never met were quick to defend me against these horribly sexist remarks, but the most disheartening part to me was the offenders — predominantly other WOMEN.
Last year, I touched on this subject when Courtney Force posed nude in ESPN and the drag racing world polarized on the issue.  Honestly, I knew it would be a controversial topic, and in my piece, I wrote about the blatantly sexist double standard- that they crucified Courtney but not John, or any other male in the issue for that matter.   But posing nude can be controversial in nature for any person based on belief, so although it was frustrating, it was not unexpected.
But what absolutely baffles me is how far these sexist remarks will go to demean women.   In these photos, I am wearing a pantsuit– the only part of my body exposed is my arms and face.    So naturally, I was a bit taken aback by these comments:

Amanda Pierce

If one wants to be taken professionally & sponsored, one should not pose in such way that an easily photoshopped stripper pole might be inserted in such photo.
Interesting.  A stripper?   You see a fully-clothed woman and instantly think stripper?  I'm curious if you mean that in order to appear "professional", I must look and dress like a male?   Because I don't see any glitter or pasties or thongs, so apparently looking like a woman means that I am a stripper?

Using my body.   What?  Am I, for some reason, to be ashamed of my own body all of a sudden?   The one God gave me?  The one I take care of regularly by going to the gym and eating healthy?  Or maybe I should wear a burka instead?  Is that the only appropriate attire for women- something that masks my form and displays no part of my individual self?  I didn't know that clothes that fit my body would mark me as a harlot.  I am sorry that is so disappointing to you.
Divided, We Fall.
This is exactly the problem, not only in racing but in LIFE and the reason women today are still fighting for equality in the workplace and other areas.   Until we stop apologizing for being women, until we stop shaming ourselves and spewing hate instead of lifting each other up, we will ALWAYS be behind.    Why would I ever think denouncing myself in my female form, downplaying what makes me feminine and unique, would gain me acceptance and equality?   All that does is reenforce the idea that being a woman is somehow WRONG!
That IS the very reason Horsepower & Heels was created– because Who Says Horsepower & Heels don't mix?!?  Not to mention, from a marketing business standpoint (which, by the way, is my profession by trade) if a company wanted someone who looked, dressed and acted like a man to best sell their product and brand, don't you think they'd actually get a MAN to do the job?
I refuse to apologize for being a woman.  I'm not going to downplay my femininity.
I am ME: a badass 215mph driving, tire smoking, wrench turning WOMAN and Mom, in a pair of cute size 8 high heels.