The Female Racer of the Year category received 58 nominations and 583 votes for the Horsepower & Heels Women of the Year Awards.    This category had an early front-runner, with a few solid challengers through out, but was able to hold strong until the close.
2015 Female Racer of the Year – Erica Enders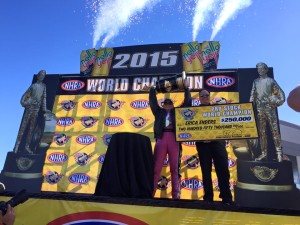 Horsepower & Heels is proud to announce the winner of the 2015 Women of the Year Female Racer category – NHRA Pro Stock World Champion, Erica Enders!
It's hard to argue what a monumental season Erica Enders had in 2015.   Fresh off her first NHRA World Championship title in 2014, she went on to reset many records with nine event wins in Pro Stock, cinching her back-to-back Pro Stock World Championship in Vegas with lethal reaction times and consecutive hole-shot victories.
She's announce a new major sponsor for 2016, and hopes to defend her dominant reign in Pro Stock for the upcoming season.
Runner Up – Janette Thornley
NHRA Harley Davidson Pro Fuel World Champion, Janette Thornley was your Female Racer of the Year Runner-Up for the 2015 Horsepower & Heels Women of the Year Awards.
Female Racer of the Year Nominees
Haley James
Kayli Barker
Heather Carter
Leah Pritchett
Elaine Larsen
Jamie Elrod
Michele Abbate
Emily Shapiro
Kathy Fisher
Melanie Salemi
Alexis DeJoria
Audrey Worm
Amy Tate
Jenna Haddock
Lizzy Musi
Dina Parise
Courtney Force
Kassidy Kreitz
Hannah Newhouse
Kendra Adams
Julie Meehan
Nellie Kitterman
Katherine Legge
Kennady Jones
Jennifer Cleminson
Bridgett Davis
Mirinda Miles
Sara Price
Valerie Clements
Rhiannon Allison
Jennifer Rice Brooke
Madelyn Marconi
Leilani Tindall
Cassie Simonton
Madyson Mulligan
Kenzie Ruston
Tiana Berkeley
Amy Ruman
Jean Price
Mia Tedesco
Alex Taylor
Sandra Carter Beal
Gabrielle McDonald
Becca Monopoli
Samira Rached
Cassie Gannis
Karen Stoffer
Michelle Furr
McKenna Haase
Brittany Force
Danica Patrick
Christine Nielsen
Maddy Ryan
Kristin Casey
Michelle Martel
Jenny Tinmouth