First off,
WELCOME ALL NEW READERS AND SUBSCRIBERS!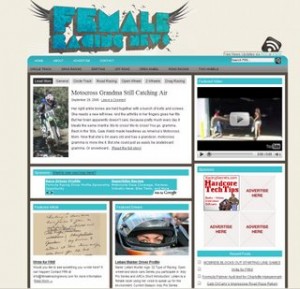 Thanks for stopping by and supporting Horsepower & Heels! We really appreciate you, and hope that you stick around and enjoy life behind the scenes with Horsepower & Heels Racing as we are getting ready to annouce some big new things…. AND…. GASP! Get the CAR back out to the racetrack! (I know, FINALLY!)
I wanted to take a moment to tell you all about a new site that is launching, Female Racing News. As most of you know, I'm a huge supporter of anything related to women in motorsports, and FRN's creator, Amanda Martin, is working to give all women racing a place devoted to sharing their news and promoting women in the sport.
FYI: H&H TV Episode 1 is the Featured Video on the site. 🙂
For those ladies involved in motorsports reading this, FRN is definitely one to add to your list. And if you're the outspoken type (or like me, who never shut up), they're even recruiting writers to contribute to site. (yes, look for my ramblings to appear in a future FRN article to be announced)
Non-Subscribers: If you want to stay up-to-the-minute on Horsepower & Heels, I invite you to check out the little subscribe box at the top right of this blog (and on the Horsepower & Heels TV page as well!). By plugging in your email, you will automatically be notified of new posts, so you never miss any of the action. Best part… its FREE! (and you'll be helping me out with potential sponsors, so THANKS!)