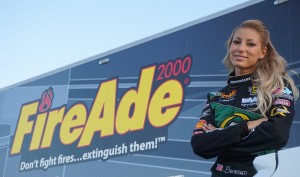 NHRA Top Fuel driver Leah Pritchett has just announced a multi-race deal in which her Bob Vandergriff Racing top fuel dragster will feature FireAde 2000 as primary sponsor at select events in the 2016 NHRA Mello Yello Drag Racing Series,  and serve as an associate sponsor throughout the rest of the season.
Ron Thames, owner of Fire Service Plus which makes the Fireade product and I starting discussing ways we could work together last October," said team owner Bob Vandergriff Jr. "We're both excited we were able to put together a program that will benefit both sides, they make a great product and it's been very well received at every level we've introduced it."
FireAde manufactures innovative, user friendly and environmentally safe fire extinguishers. Their products are made from 98% organic compounds, so they contain no hazardous chemicals and are biodegradable. FireAde is used by the NHRA Safety Safari and their extinguishers can be found in retailers all around the world.
When you think of B2B and creating opportunities I kept hearing one name, Bob Vandergriff and BVR," said Ron Thames. "Since creating this partnership our company has already had doors opened for us at both the retail level and in the oil fields sector. I'm looking forward to growing this program and we're off to great start already."
This is Pritchett's first season with Bob Vandergriff Racing and her first full-season behind-the-wheel of a top fuel dragster. FireAde joins Quaker State as the second major company to team up with Bob Vandergriff Racing to support Leah Pritchett this season. Pritchett finished #14 in points last year after only competing in 16 out of 24 races. With the backing of BVR, she is focused on earning her first win in Top Fuel and competing for the championship title.
The 2016 NHRA Mello Yello Series season will begin at the 56th annual Circle K Winternationals in Pomona, California on February 12 – 14.