Horsepower & Heels Rookie of the Year winner and NHRA Top Alcohol Dragster driver, Megan Meyer, just announced a new partnership with Eaton owned, Aeroquip Performance Products.
The Randy Meyer Racing team has been using Eaton and Aeroquip products for decades, in many of their championship runs in the sport. They are proud to announce a return partnership with the hydraulics specialty company for their 2017 season. Megan and the rest of the Randy Meyer Racing team will represent the Aeroquip brand as an official team marketing partner on their full tour with the NHRA LODRS Regional and National Top Alcohol Dragster series.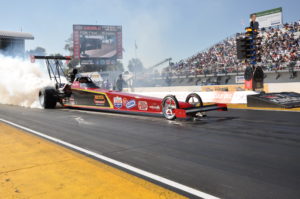 No stranger to Megan and her drag racing career, Aeroquip has been on-board to help Megan Meyer previously, partnering with her during her Junior Dragster racing days, and during her time in the Super Comp class. Their return to the Randy Meyer Racing team for 2017 will be their first affiliation since Megan's jump to the Top Alcohol Dragster category in 2016. Megan's rookie season in her A/Fuel Dragster proved very successful and showed tons of promise for the young driver, and Aeroquip is now on-board for her sophomore journey in the class.
All of us at Randy Meyer Racing are thrilled to have Eaton and Aeroquip back on board. We have proudly used their products for decades, and hope to win another World Championship with the Aeroquip brand." – Megan Meyer
In operation for over 65 years, Eaton's Aeroquip® name represents quality and innovation in the hydraulics industry. Eaton offers Aeroquip hose, fittings, adapters, couplings and fluid connectors for all pressures in industrial, aerospace and automotive applications.
Meyer will begin her 2017 season at the NHRA Gatornationals event in Gainesville, FL on March 16-19th. Her tentative schedule includes 10 national event appearances and 7 regional event appearances alongside team drivers Justin Ashley and sister, Rachel Meyer.