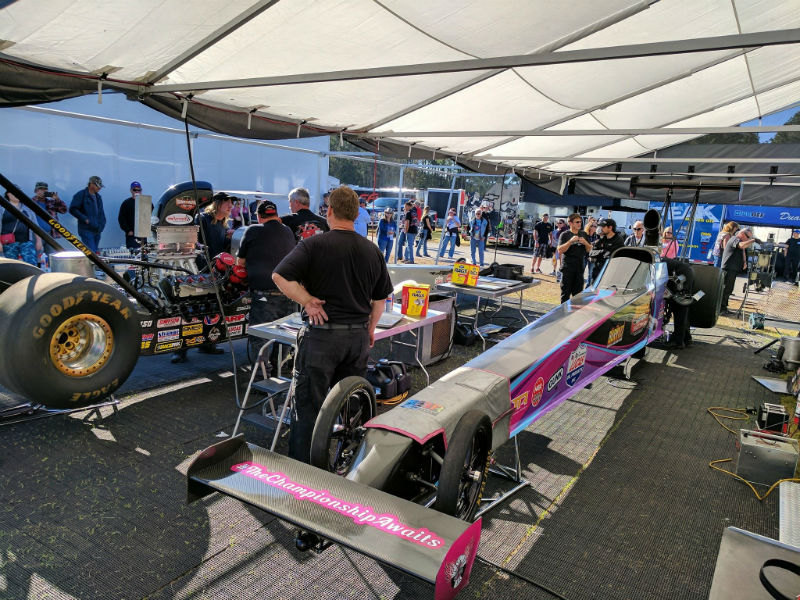 Fresh off her first regional win of the season, NHRA Top Alcohol Dragster driver Megan Meyer qualifies second in Gator Nationals event before exiting in the quarterfinals.
The returning sophomore driver posted a 5.237 at 276.01 mph pass in the first round of qualifying. She improves in round two with a career best ET of 5.153 at 283.73 mph, tying Bill Reichert for the eighth quickest run ever in the Top Alcohol Dragster class. Her teammate, Justin Ashley, just bested her qualifying effort in round three, bumping her from the No. 1 qualifying position.
Eliminations – Gator Nationals
In round one of eliminations, Megan Meyer would face Arthur Allen for the second time in her career, taking the win in their previous match up. Meyer makes a solid 5.206 pass at 279.21 mph for the win, after Allen loses several cylinders at the start of the run.
Round two, Meyer would face defending event champion, Rich McPhillips. McPhillips holds the advantage in previous match-ups with a 2-1 record. Meyer and McPhillips met last year in the finals of the Gator Nationals event, where Megan would record her first runner-up finish. McPhillips left first, and both would be neck-and-neck all the way to the finishline. Though Megan would post a quicker and faster 5.238 at 280.43 mph, McPhillips would take the hole-shop victory with a 5.297 at 266.16 mph thanks to a 0.012 second reaction time.