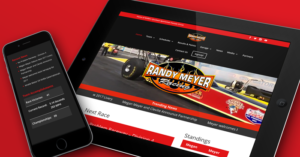 NHRA Top Alcohol Dragster drivers Megan Meyer and Rachel Meyer just launched a new website for their Randy Meyer Racing Team. The new site, www.randymeyerracing.com, shares the history and real life information about the Randy Meyer Racing team and their journey in the NHRA Drag Racing Top Alochol Dragster racing class.
The new website for Megan and Rachel Meyer is devoted to sharing their experiences on the road and on the track with fans by providing the most up-to-date information on the team, class point standings, qualifying and race results, and national, regional and divisional point earnings. Fans can keep track of where the team is with the up-to-date schedule of upcoming races, events and appearances.
"We are excited to be able to share so much information with our fans on our new website, randymeyerracing.com," says Randy Meyer, team owner. "Our goal is to stay connected with our fans and keep everyone in the loop on all our driver's latest happenings."
Fans can access the site to read the latest news on the race team, watch the team's videos for an up-close look, see photos and keep up with their outstanding stats. Easily follow the team and drivers on social media by following the team social link collection, and take advantage of the opportunity to sign up for their mailing list. Learn about the marketing partners that the team trusts and promotes at each event.