The Most Influential Woman of the Year category received 58 nominations and 417 votes for the Horsepower & Heels Women of the Year Awards.    There were so many worthy nominees, but only one stood tall above the rest.
2015 Most Influential Woman of the Year – Jean Price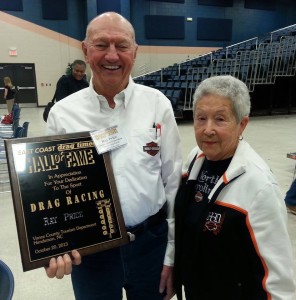 Horsepower & Heels is proud to announce the winner of the 2015 Women of the Year Most Influential category – Ray Price Harley Davidson's Jean Price!
The matriarch of the motorcycle drag racing scene for nearly half a century, Jean Price has been the calm, resilient, guiding force behind legendary drag racer Ray Price and one of the largest Harley-Davidson dealerships in the Southeast.
There by his side from the time they met over 53 years ago, Jean stood by him through his tour in the Air Force, the start of his professional drag racing career in the late 1960's and onto 46 national event wins and 51 records set before retiring in 2003 at the age of 66.
Jean remembers fondly the years they traveled straight through the night to tracks across the US, with Ray tucked in the back of the van wrenching away.   While other women were receiving chocolates and flowers on Valentine's Day, Jean was signing for and receiving barrels of nitro fuel and oil for the Top Fuel bike.
"Ms. Jean" as she is affectionately known around the Harley-Davidson community, played an instrumental role in all of the accomplishments of Ray – the "Father of the Funnybike" and the stable of riders and mechanics who support the Ray Price Motorsports team in Raleigh, NC.   Without Ms. Jean, the innovation of the 1st wheelie bars for motorcycles and two-speed transmissions would not have been possible for Ray.
Her stable presence and career as co-owner of Ray Price Harley-Davidson makes her a cherished matriarch of the drag racing community.
Our thoughts and condolences also go out to Ms. Jean and the entire H-D community, in memory of Ray, who passed away on December 16, 2015.
Runner Up – Erica Enders
2x NHRA Pro Stock World Champion, Erica Enders was your Most Influential Woman of the Year Runner-Up for the 2015 Horsepower & Heels Women of the Year Awards.
Most Influential Woman of the Year Nominees
Shirley Muldowney
Kayli Barker
Elaine Larsen
Janette Thornley
Heather Carter
Danica Patrick
Kim Kussy
Haley James
Leah Pritchett
Courtney Force
Terry Chandler
Bunny Burkett
Amy Tate
Michele Abbate
Cassie Simonton
Jenna Haddock
Alexis DeJoria
Audrey Worm
Ashley Sanford
Brittany Force
Kathy Fisher
Julie Pierce
Emily Shapiro
Julie Meehan
Susie Wolff
McKenna Haase
Lyn St. James
Kelly Earnhardt Miller
Kenzie Ruston
Sarah Fisher
Emme Hall
Heidi Steele
Angelle Sampey
Sara Price
Hannah Newhouse
Cammy Edelbrock
Marla O'Guin
Denise McClugge
Madelyn Marconi
Annamarie Strawhand
Ellen Eschenbacher
Tabitha Sizemore
Ashley Force-Hood
Claire Williams
Melanie Salemi
Sandra Carter Beal
Alex Taylor
Linda Vaughn
Becca Monopoli
Lisa France Kennedy
Nicole Erickson
Christel Andy
Katherine Legge
Jenny Tinmouth