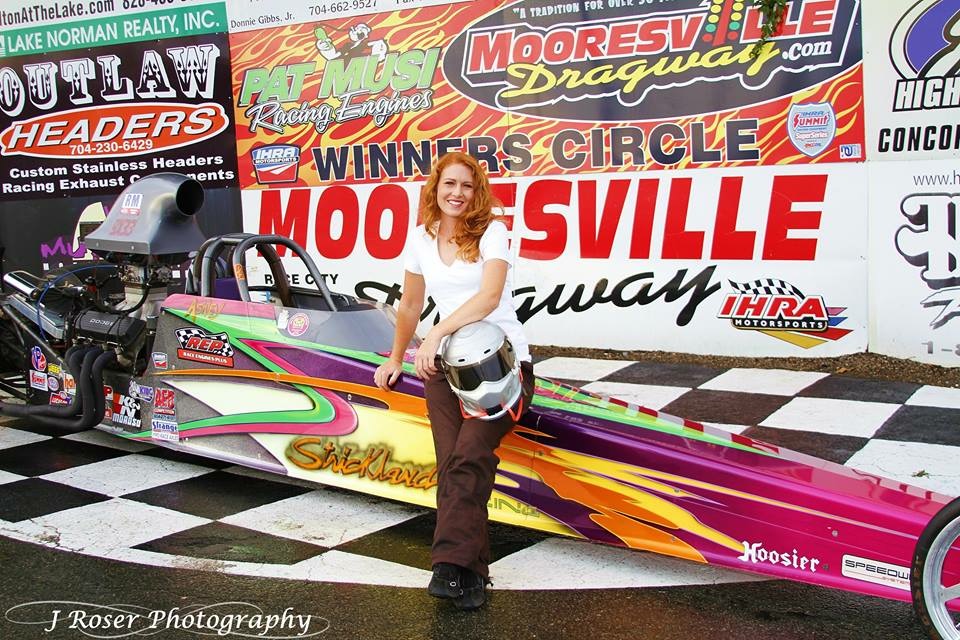 Dials, Digs and Dresses-  Ashley Strickland, the 23-year old drag racer, former collegiate volleyball player and pageant queen from Concord, NC shows her diversity and success in a unique blend of experiences.
Family Racing Roots
As a small child, Ashley Strickland routinely frequented the local racing circuits with her father, an avid bracket racer who competed in the non-electronics classes.   She remembers vividly her father's Lenco-equipped Dodge Daytona, which he raced consistently throughout her childhood, upgrading to a short-wheelbased Anglia.    Watching her father's racing adventures, she was eager to enter the junior dragster ranks, begging her parents to allow her to compete in the Junior Drag Racing leagues.
During Christmas when I was seven years old, Santa Claus brought me my first junior dragster! I made my first pass when I was 8 years old, and started running regularly when I was the age of 10."  
With the help of her dad, she campaigned in the Junior Dragster series for several years before moving up into "big cars"  of the Top Eliminator class in 2007 at the age of 15.   She entered in a few bracket races at non-sanctioned tracks that would allow her to drive under the age of 16, and did some grudge racing on the east coast. Once her sixteenth birthday arrived, she was a staple in the highly competitive IHRA Top Eliminator Class, winning three races, two runner-up finishes and several semi-final showings in her first year in the class.
Her younger brother, who makes up the other half of her Strickland Racing team, joined in the Junior Ranks as well, and the pair have benefitted from lots of coaching from Dad, who sold his racecar to focus on his children's racing careers.
My dad has constantly given me driving lessons over the years. I have gotten endless speeches about what to do and what not to do in any given situation. I have always tried to hold an open mind and learn as much as I possibly can."
Volleyball Scholarship puts racing on hold
The young teenager balanced her high school workload, a part time job, school athletics career, and racing with precision and determination.  But her busy schedule would come to a cross road nearing her graduation, and important decisions had to be made.  Ashley accepted a volleyball scholarship at Averett University in Danville, Virginia.
When I was traveling and visiting colleges, I never knew about college sports being year-round… I had always drag raced in addition to playing volleyball, and decided to hang up my drag racing for the most part as I played volleyball in college. I moved to a different state and focused on my new passion of volleyball at the time."
This put racing on the backburner while she attended college and focused on her volleyball schedule.  When her schedule allowed, she would return home to race from the end of April until the first of August.   Just in this limited schedule run,  Ashley won two races and made several semi-final appearances in regional races around the North Carolina area. Despite the limited schedule, Ashley still finished in the top 15 of the area's series championship points standings.
Trading in her helmet for a tiara
While in her freshman year of college, a flyer would catch Ashley's eye while studying for her finals. The local Miss Danville-Pittsylvania County pageant was looking for contestants, and on a whim, Ashley decided to enter.   She paid her $50 entry fee, wearing one of her high school prom dresses and recruiting the help of a family friend to do her hair.
My mom, Mrs. Tammy, and my brother and I traveled up to Virginia, where I went to college, and stayed in the dorm rooms while I competed in the pageant. I knew I wouldn't win. I had no talent, didn't go to the gym and workout a day in my life (for the swimsuit category), and had no idea how to walk in heels and a bathing suit on stage in public. I actually "youtubed" how to accurately walk in heels and do a "pageant bikini walk", and other pageant items."
But winning is exactly what Ashley ended up doing, taking the overall pageant win as well as the swimsuit and interview portions of the competition.  She was named "Miss Danville-Pittsylvania County", and then went on to compete for the title of Miss Virginia, for the chance to represent the state in the national "Miss America" pageant.
She has competed in a few more competitions since, recently winning the title of The Southeast Thresher's Queen in June, representing the Southeast's largest Antique Farm and Tractor event in the annual Independence Day celebration.   Her experiences in the seemingly polar-opposite worlds of drag racing and pageantry proved to be very complimentary, as Ashley recounts that the quick-thinking interview portion of pageants were not unlike the quick reaction and lighting sharp reflexes and thinking needed in drag racing, helping her keep cool under pressure.    
During the interview portion, you have to be able to think quickly. Drag racing gave me the ability to think quick and act in an appropriate manner in order to answer all questions that were given to me, not just skirt around an answer. Though drag racing definitely did not help the part of walking in heels, I would not have been as well-rounded in the pageant world if it were not for my drag racing background."
Returning to her love of racing
In 2012, Ashley would return home, transferring to the University of North Carolina at Charlotte.   She would also return to her first love of drag racing, running the full schedule in 2012.   She won five races, had six final round appearances, and numerous semi-final finishes. She placed in the top eight at her local IHRA track, was crowned the NHRA 2012 zMAX NHRA Track Champion, and earned a spot in the NHRA Division 2 Race of Champions in her first year competing in the NHRA. Just one thousandths of a second separated her from being named the NHRA Division 2 Super Pro Champion at her first Race of Champions appearance.
In 2013, Ashley would again land in the top 10 in IHRA Track Championship points for the season, as well as a Top 10 finish in the IHRA finals.   She would move onto running Super Comp in IHRA in 2014,capture two semi-final appearances in same weekend (21 rounds of eliminations won in two days), a NHRA LODRS Division 2 appearance as well as an NHRA national event appearance in Atlanta,  also finishing in the top 10 for Rockngham Dragways yearly points championship.
Ashley recently graduated from UNCC, earning her degree in Psychology, and a double minor in Biology and Women's and Gender Studies.  She works as an Account Executive at ESPN Radio in Charlotte, and coaches Volleyball in her off-time.   
I still coach, and coach on the national level. Coaching allows me to still be involved in the sport, yet give me the ability to affect young girls lives and support them in ways that I wished I had received while I was playing in college. "
Racing on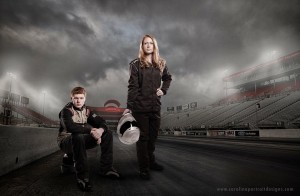 Her 14 year racing career continues to thrive as well, racing her Race Tech dragster, powered by a NASCAR Dodge R5 engine every opportunity she has.  
Recently, we have teamed up with Joey Arrington at Race Engines Plus for our engine design and combination. Noah and I both run a R5 NASCAR engine that is designed and built by MOPAR. It is a street legal, and NASCAR legal engine that we have put into our drag cars. It is a high-winding RPM engine that is tons of fun to drive. "
Like many racers, she feels the most difficult part of the sport lies in finding the funds to compete.   Ashley has worked hard with her family to put together a team able to be competitive an offer value.  Her partnerships with companies like Speedwire which helped with electronics, AED with the engine carburetor that has allowed her consistency, and many other people along the way have been instrumental to her success staying on the track.
My parents help tremendously with our racing operation.   …Without money, cars would not be able to be at their best, nor would drivers be able to attend the races. As a recent college graduate, I have struggled with finances as I have been on my parent's skirt-tail for the past several years. Now with it time to be on my own, it is a struggle."    
She has had a plethora of positive experiences in the drag racing world, but added that there are a few incidents where being a female in the male-dominated sport of drag racing have resulted in some less than sportsmanlike comments from her competitors.  She shakes them off quickly.
It is a given that men do not like to be beat by a girl.  …I believe anytime someone is a minority, there will be criticism. In my experience, I have always tried to take criticism and learn from it. If it is negative, I try to make it a better driver and a stronger person in general."
She credits her parents for raising her to be a strong woman and have a strong mind-set that is able to overcome adversity and succeed in high-pressure environments.  She enjoys meeting young kids who look up to her for driving a racecar, and enjoys sharing her story in hopes that it may inspire some to live their dream regardless of obstacles they may encounter.    Ashley offers this advice for young, up and comers:
As a female driver, I think that it is very important that you know who you are in order to experience success. By knowing yourself, you will be able to drive better and be an all around better driver. Furthermore, learn your car. Do not rely on other people to do everything for you. Be able to diagnose problems if something were to arise with the car. Pay attention to what your car does in different situations and how your car acts at various tracks. All of this is very important when it comes to being a successful driver. "
In the future, Ashley aspires to make racing a full-time profession, adding that Top Fuel would be her ultimate dream.   While she says that it may not be always a realistic goal for her personally, she would love the opportunity if it presented itself.
It seems like such an incredible rush, and it would give me the opportunity to see the country in addition to meeting endless people. I love to meet new people everywhere I go, and I feel like I have a diverse background so I am able to relate to all kinds of people, no matter age or gender."   
For now, she says that she will continue racing, and plans to do so for many years to come.
Racing is in my blood, and it is impossible to keep a true racer away from the track. I am looking forward to running a variety of races, but always excited to be on the track no matter where it is!"
Horsepower & Heels wishes you the best of luck, Ashley Strickland!