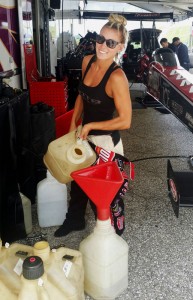 Top Fuel dragster driver Leah Pritchett has been dreaming of racing at the NHRA U.S. Nationals since she began her racing career at age eight.   The 27-year-old Redlands, Calif., native has set her sights on the world's biggest drag racing event for nearly twenty years when she started competing in her family's Junior Dragster at the Pomona Raceway.   Though she has been to Lucas Oil Raceway many times, even in her Junior Dragster at age 12, she has always wanted to race at the Clermont, Ind., motorsports facility on Labor Day during the hallowed U.S. Nationals.  Now in the top drag racing division, Top Fuel, it looks like Pritchett has finally reached her goal.
 "I haven't been able to race on Labor Day yet at Indy," said Pritchett, who'll wheel her bright, chrome red Gumout Top Fuel dragster for Dote Racing next week (Sept. 3-7) in the 61st annual drag racing extravaganza. "I just missed out last year when (former NHRA champion) Antron Brown nipped me by .001 of a second (for the 16th starting spot)."
Leah Pritchett's frustration of missing the U.S. Nationals 16-driver Top Fuel lineup in 2014 was especially cruel since it was so close, Brown's 3.845 to Pritchett's 3.846 seconds.
"Hey, that's drag racing," she explains. "The track conditions are always tough at Indy. With so many race cars there, the track surface becomes very tricky. We'll have five qualifying runs next weekend for the U.S. Nationals and two will be at night. We need to get the night runs down to put the Gumout dragster into the field this time."
Leah Pritchett has experience beyond her age
Pritchett, despite her age, is one of the most experienced pro drivers in the NHRA pit area including holding four different professional racing licenses in Top Fuel, Funny Car, Heritage Funny Car and ProMod. Leah is a former Heritage Funny Car world champion and a three-time NHRA national event winner in the wild ProMod division.
"When I was a kid racing in Junior Dragsters, I wanted to drive in the Top Fuel division," said Pritchett, whose husband, Gary, is a mechanic on the Steve Torrence Top Fuel car. "So I drove just about anything I could to get up to the top ranks. I tested in the Funny Cars at Indy and drove the unpredictable ProMod cars on the national NHRA circuit. Finally, the Dote family offered me this Top Fuel ride and we brought in Gumout as our primary sponsor. It was a dream come true. I'm competing against the likes Antron (Brown), Tony (Schumacher), Shawn (Langdon) and Larry (Dixon) and all have been Top Fuel champions. Ultimately, that is my goal too, winning the NHRA Mello Yellow Top Fuel title."
And a good start in Leah Pritchett's goal would be a victory at the NHRA U.S. Nationals.    Her Dote Dragster has been consistently going rounds this season,   Pritchett finished runner-up to Brown at the Southern Nationals in Atlanta and has posted qualifying efforts of third, fourth and fifth this season.
"The U.S. Nationals are our Indy 500," Leah said. "It's the biggest drag race in the world and it is an honor just to qualify for the Top Fuel field. But I feel our Dote team can go a lot further than that this year. The Gumout car has been strong throughout the year and we want to be contender for the win at Indy.  Last year, we just missed the show on Monday," she said. "Now, with the new red chrome Gumout car, we want to put this new paint scheme in the winner's circle at the world's biggest drag race. Led by Doug Kuch (crew chief) and Rob Flynn (tuner), we feel positive about our chances this time."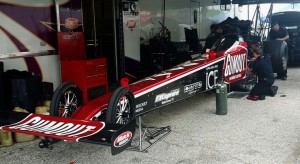 This year's event marks the 61st Annual U.S. Nationals for the NHRA.     Pritchett's first qualifying attempt will take place on Friday, Sept. 4, at 7:30 p.m. EDT.  Then there are two additional runs each on Saturday and Sunday for the Top Fuel dragsters. The final eliminations are set for Monday, Sept. 7, at 11 a.m. EDT.
Best of luck to Leah Pritchett!