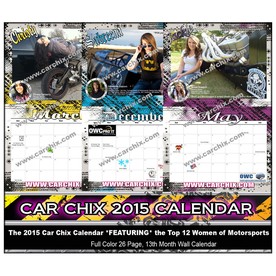 A great opportunity for women in the motorsports world:  CarChix.com is hosting their annual  Women of Motorsports Contest!  
The Car Chix Women of Motorsports Contest is an annual online contest that recognizes women in motorsports, female racers and ladies in the automotive industry world-wide.
The contest began on September 12th and ends Saturday, September 19th.   Voting is currently underway on the CarChix Facebook page.  Though voting is in-progress, its not too late to submit a photo that highlights you and your vehicle of choice and is open to all women with ANY type of vehicle including, but not limited to: bikes, cars, trucks, dragsters, boats, etc.
Submit your vote in support for your favorite ladies of racing!
PRIZES:
Top 12 Ladies with the most "LIKES" will receive an exclusive invite to be featured in the Official 2016 Car Chix Calendar and will be featured every month throughout 2016.
Top 12 women will all receive a copy of the Official 2016 Calendar and official Car Chix Stickers.
The Photo with the most "LIKES" will receive a $25 VISA Gift Card & The Ultimate Car Chix Gear Package and be named the Official 2015 Women of Motorsports winner.
Winners are selected based on how many people *LIKE* the contestants photo entry in the official '2015 Women of Motorsports Contest' Album on the Official Car Chix Facebook Page.
HOW TO ENTER:
 Submit your entry for the Women of Motorsports Contest by filling out the entry form on CarChix.com.
Your entry, it will then be added to the '2015 Women of Motorsports Contest' Photo Album on the Car Chix Facebook Page by CarChix staff.
Voting begins immediately.   *ONLY "LIKES" ON THE IMAGE IN THE DEDICATED ALBUM WILL BE COUNTED*
See RULES and other information on CarChix.com
Best of Luck to all the Women of Motorsports!