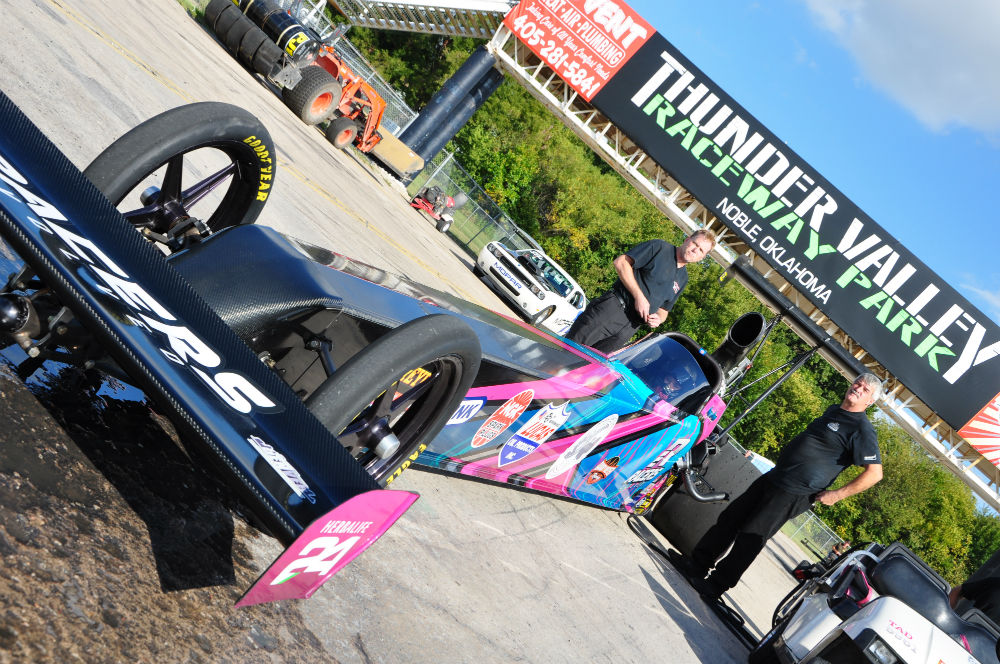 Thunder in the Heartland | LODRS Central Region
NHRA Top Alcohol rookie Megan Meyer and her Randy Meyer Racing team are ready for Thunder in the Heartland, the final Lucas Oil Drag Racing Series Central Region competition of the season.  The event takes place this weekend at Thunder Valley Raceway in Noble, OK.
"This will be my first time racing at Thunder Valley, so I'm excited to add another drag strip on my list," says Meyer. "There are 17 dragsters registered for this race, which is unheard of for a regional race but we are excited to give it our all to qualify good and take the win."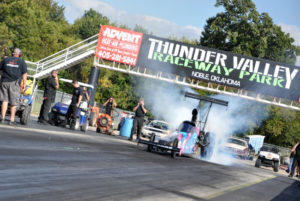 The driver of the Racer's Evolved A/Fuel Dragster has had quite a season in her first year in the class, currently holding onto second place in the points chase, and finishing as runner-up twice this season at the regional level.
"My father won this race for the first time last year, so it's only fitting that I try my best to follow in his footsteps. Currently we are 2nd in points behind Gord Gingles, and we are going to try to get as many points this weekend to lock in our position. I'm extremely happy ending the season in second place, my goal for the year was to just be in the top 5 and we have done extremely well in my rookie year with two regional runner-up finishes. My dad and my guys have given me one of the best race cars in the nation and I couldn't be happier and more excited to close out the season on a high note."
The team ran into a slump mid-season during a tough 5-race tour, where performance gremlins kept them out of the winner's circle.  But they regrouped and came out strong in Charlotte, the last National series race, and are excited for their final regional race of the 2016 season.
"The forecast says it will be in the mid-70s all weekend long which is perfect weather for our cars, so we predict we will run some quick numbers. At our last race in Charlotte, we were able to attack our gremlin that has been messing with us and we had some promising results. Unfortunately we lost in the 2nd round, but we still made small improvements that we are happy with."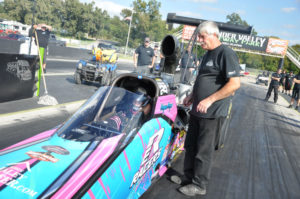 The Lucas Oil Drag Racing Central Region event at Thunder Valley Raceway kicks off today with qualifying for TAD Friday and Saturday at 1pm and 4pm.   Eliminations will take place Sunday, at 1pm and 3pm.
 Current Points Standings in Top Alcohol Dragster | Central Region
(as of 9/30/16 -- from NHRA.com)
Gord Gingles                   341
Megan Meyer                  235
Dean Dubbin                  170
Spencer Massey              149
Gary Cooper                    128
James Stevens                107
Michael Manners           86
David Brounkowski       85
Rachel Meyer                  75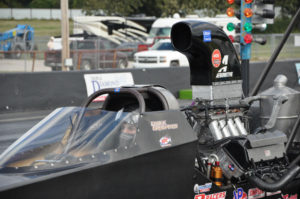 New Driver Joins Randy Meyer Racing in Thunder Valley
Megan Meyer and the Randy Meyer Racing team will also welcome a new teammate at the Thunder Valley LODRS Central Region event.   Chuck Grospitch, 25, from Olmsted Falls, OH earned his Top Alcohol Dragster license earlier this year.
A mechanic at Don Schumacher racing, Grospitch works professionally in the sport as a crew member, but a long time Bracket Racer and Super Comp driver, he is anxious to get a chance behind the driver's seat this weekend alongside his new teammate, Megan Meyer with the Randy Meyer Racing team.
"I grew up bracket racing and progressed into Super Comp, before going to work for Pro teams," says Grospitch.   " I love the thrill of turning the win light on and it's always been a dream and a goal of mine to race Top Alcohol.   I'm excited and grateful for the opportunity to be apart of the RMR team. Randy runs a top notch operation and I'm looking forward to working with him and the Meyer family to start my career."